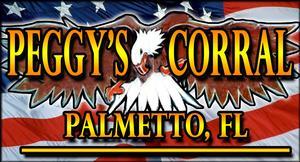 Peggy's Corral
4511 US Highway 41 N,
Palmetto, FL 34221
(941) 729-5442
Map View:
Click here
We are a biker friendly establishment with a great atmosphere of good times to be noted by our ceiling of pictures. A down home atmosphere where everyone is welcomed. Great Music, Great Staff & People..
Come "Re Discover" Peggy's
"Rockin" Corral..
All Music provided by:
The Tampa Bay Music Network & Vic Lima - aka " The "Beanie Guy"

Upcoming Events
Artist
Date
Dirty Little Secret - Tampa
Classic Rock, Country, Pop, Rock
Dirty Little Secret @ Peggy's Corral
Sun, December 10
12:00pm - 4:00pm
$0
DJ NEICY

christmas party and shop til you drop extravaganza!
Mon, December 11
6:00pm - 9:00pm
$NO
Aloha Sharks
Classic Rock, Pop, Rock, Southern Rock
Rock Out Fridays at the Tiki Bar
Fri, December 15
7:00pm - 11:00pm
steven paradis

steven paradis live on stage here at peggy's corral saturday solos at the tiki bar!
Sat, December 16
2:00pm - 6:00pm
Bradentucky Death Rays
Alternative, Rock
Sunday Funday at Peggy's Corral
Sun, December 17
12:00pm - 4:00pm
Brown Katz Band

Rock Out Fridays at the Tiki Bar
Fri, December 22
7:00pm - 11:00pm
Nasuree

Saturday Solo at the Tiki Bar
Sat, December 23
2:00pm - 6:00pm
Dirty White Boys

Sunday Funday at Peggy's Corral
Sun, December 24
12:00pm - 4:00pm
DJ Bryan

BIKE NIGHT at Peggy's corral, Adrenaline Harley Davidson, Fran Haasch
Thu, December 28
7:00pm - 10:00pm
Luna and the Warriors
Alternative, Classic Rock, Pop, Rock
Rock Out Friday at the Tiki Bar
Fri, December 29
07:00 PM - 11:00 PM
Terry B. Helm
Acoustic, Country, Rock, Rockin Blues
Saturday Solo at the Tiki Bar
Sat, December 30
2:00pm - 6:00pm
Nobody's Fool
Classic Rock, Rock, Southern Rock
new years eve jam!
Sun, December 31
12:00 PM - 04:00 PM
Black Snake Bayou Band
Americana, Rockin Blues, Southern Rock, Swamp Pop
The Black Snake Bayou Band live
Fri, January 5
7:00pm - 11:00pm
Cabana Dogs
Alternative, Classic Rock, High Energy Dance, Rock
Cabana Dogs Rocks Peggy's Corral
Fri, January 12
7:00pm - 11:00pm
$Tips
Waiting For Dark
Classic Rock, Pop, R&B/Soul, Rock
Fri, January 19
7:00pm - 11:00pm
Westbound & Down
Classic Rock, Southern Rock
Sun, January 21
12:00pm - 4:00pm
Mixxxed Breed Band
Alternative, Blues, Rock, Southern Rock
MIXXXED BREED LIVE!!
Sun, February 4
12:00pm - 4:00pm
Dirty Little Secret - Tampa
Classic Rock, Country, Pop, Rock
Dirty Little Secret @ Peggy's Corral!
Sun, February 18
12:00pm - 4:00pm
$0
Josh Quinn
Acoustic, Blues, Classic Rock, Rock
Josh Quinn Trio
Fri, February 23
7:00pm - 11:00pm
Bradentucky Death Rays
Alternative, Rock
Sunday Funday with the Death Rays!
Sun, February 25
12:00pm - 4:00pm
Black Snake Bayou Band
Americana, Rockin Blues, Southern Rock, Swamp Pop
The Black Snake Bayou Band live
Fri, March 1
7:00pm - 11:00pm
Mixxxed Breed Band
Alternative, Blues, Rock, Southern Rock
Mixxxed Breed Live!!
Fri, April 5
7:00pm - 11:00pm
Bradentucky Death Rays
Alternative, Rock
Bradentucky Death Rays
Sun, April 7
12:00pm - 4:00pm
Black Snake Bayou Band
Americana, Rockin Blues, Southern Rock, Swamp Pop
The Black Snake Bayou Band live
Fri, May 3
7:00pm - 11:00pm
Mixxxed Breed Band
Alternative, Blues, Rock, Southern Rock
Mixxxed Breed Live
Fri, June 7
7:00pm - 11:00pm
Black Snake Bayou Band
Americana, Rockin Blues, Southern Rock, Swamp Pop
The Black Snake Bayou Band live
Fri, July 5
7:00pm - 11:00pm
Mixxxed Breed Band
Alternative, Blues, Rock, Southern Rock
Mixxxed Breed Live
Fri, August 9
7:00pm - 11:00pm
Black Snake Bayou Band
Americana, Rockin Blues, Southern Rock, Swamp Pop
The Black Snake Bayou Band live
Fri, September 6
7:00pm - 11:00pm
Mixxxed Breed Band
Alternative, Blues, Rock, Southern Rock
Mixxxed Breed Live!
Sun, October 6
12:00pm - 4:00pm
Bradentucky Death Rays
Alternative, Rock
Bradentucky Death Rays
Sun, October 6
12:00pm - 4:00pm
Black Snake Bayou Band
Americana, Rockin Blues, Southern Rock, Swamp Pop
The Black Snake Bayou Band live
Fri, November 1
7:00pm - 11:00pm
Bradentucky Death Rays
Alternative, Rock
Bradentucky Death Rays
Sun, December 8
12:00pm - 4:00pm
Mixxxed Breed Band
Alternative, Blues, Rock, Southern Rock
Mixxxed Breed Live!
Fri, December 13
7:00pm - 11:00pm



Past Events
Artist
Date
Chris Dupre
Acoustic
Saturday Solo Jam at Tiki Bar
December 9, 2023
2:00pm - 6:00pm
Mumbo Jumbo
Americana, Blues, Rock, Southern Rock
Rock Out Fridays at the Tiki Bar
December 8, 2023
7:00pm - 11:00pm
The Fulcos
Classic Rock, Country, Rock, Rockin Blues
First Thursdays at Peggy's Corral
December 7, 2023
6:00pm - 10:00pm
NVG Band (Nasuree Van Gelder Band)

Sunday Funday at Peggy's Corral
December 3, 2023
12:00pm - 4:00pm
Corey Simmons

Saturday Solos at the Tiki bar
December 2, 2023
2:00pm - 6:00pm