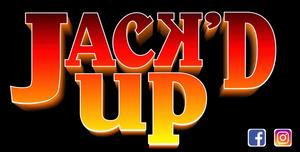 Jack'D Up
Classic Rock, High Energy Dance, Pop, Rock
Tampa Bay Area's Multi-Award Winning FUN DANCE ROCK band.
We perform high-energy party & dance rock covers from the 70's, 80's, 90's & today.
ATTN VENUE GM's:
—>Jack'D Up Press Kit PDF available upon request.
JACK'D UP is a multi award winning male and female fronted rock band. In 2021, the group reformed with two new members and then received 3 different Reader Choice Awards as best band.
Five talented musicians that have a blast playing live music (NO back tracks). With 4 vocalists sharing songs, stellar harmonies, two incredible guitarists and a driving rhythm section, every song gets you up and dancing.
What sets the band apart from others is the energy, fun and excitement that comes off the stage and instantly handed over to the dancing crowd. Each performed song includes the artist's sound signatures, just like the original recording.
Jack'D Up's fun seems endless because each song jumps right into the next song which only builds up the party. From pop rock, to classic rock to dance rock with a tiny mix of alternative rock, it's all there. We have fun on stage and you will surely have fun on the dance floor!
MEET THE BAND:
JULIA - female lead vocals, harmonies, backup vocals, cow bell, more cowbell, & tambourine
LAK - harmonies, backup vocals, lead guitar, saxophone, organ, & sounds from a guitar that you've never heard before
K ROCK - occasional lead vocal, harmonies, backup vocals, & killer bass guitar
Roberto- drums & percussion & vocals
We've got everything we need to get you and the crowd JACK'D UP. You'll find us at the Festivals, Finer Live Music Venues, Special Events, Corporate Events, Charity Events, Night Clubs, Ball Park / Sports Facilities and Outdoor Concerts.
Check out our schedule of shows here on GO TONIGHT. Visit and "LIKE" our Facebook page for more details and updates on new shows added.
Now that you know that this is the band you want to see, look at the show dates. Grab some friends, come out and have fun being JACK'D UP!
TO BOOK JACK'D UP, CONTACT US:
K Rock
(941)702-0024
[email protected]
- JACK'D UP PRESS KIT & STAGE PLOT AVAILABLE BY REQUEST -

Upcoming Events
Venue
Date
Clancy's Irish Sports Pub and Grill
Bradenton
Clancy's gets Jack'D Up!
Sat, June 10
5:00pm - 9:00pm
$0
Sun Outdoors Sarasota
Sarasota
Sun Outdoors Sarasota gets JACK'D UP!
Sat, June 17
7:00pm - 11:00pm
$0
Stottlemyer's Smokehouse
Sarasota
Jack'D UP live @ Stottlemyer's
Fri, June 23
7:00pm - 10:00pm
$0
Woody's River Roo
Ellenton
WOODY'S GETS JACK'D UP TONIGHT!
Sat, June 24
7:00pm - 11:00pm
$0
Gator Club
Sarasota
The Gator Club gets Jack'D Up!
Fri, June 30
9:30pm - 2:00am

Clancy's Irish Sports Pub and Grill
Bradenton
Clancy's gets Jack'D Up!
Sat, July 15
6:00pm - 10:00pm
$0
Sun Outdoors Sarasota
Sarasota
Sun Outdoors Sarasota gets JACK'D UP!
Sat, July 22
7:00pm - 10:00pm
$0
Stottlemyer's Smokehouse
Sarasota
Jack'D UP live @ Stottlemyer's
Fri, August 25
7:00pm - 10:00pm
$0
Clancy's Irish Sports Pub and Grill
Bradenton
Clancy's gets Jack'D Up!
Sat, August 26
6:00pm - 10:00pm
$0
Twisted Fork
Port Charlotte
TWISTED FORK GETS JACK'D UP
Fri, September 15
7:00pm - 11:00pm
$0
Clancy's Irish Sports Pub and Grill
Bradenton
Clancy's gets Jack'D Up!
Sat, September 16
6:00pm - 10:00pm
$0
Sun Outdoors Sarasota
Sarasota
Sun Outdoors Sarasota gets JACK'D UP!
Sat, September 23
7:00pm - 10:00pm
$0
Sun Outdoors Sarasota
Sarasota
Sun Outdoors Sarasota gets Jack'D Up!
Sat, October 7
7:00pm - 10:00pm
$0
Stottlemyer's Smokehouse
Sarasota
Jack'D UP live @ Stottlemyer's
Fri, October 13
7:00pm - 10:00pm
$0
Bayfront and JD Hamel Parks
Sarasota
Sarasota Rocktoberfest '23
Sat, October 14
12:30pm - 2:00pm
$0
Clancy's Irish Sports Pub and Grill
Bradenton
Clancy's gets Jack'D Up!
Sat, October 21
6:00pm - 10:00pm
$0
Woody's River Roo
Ellenton
WOODY'S GETS JACK'D UP TONIGHT!
Sat, October 28
7:00pm - 11:00pm
$0
Sun Outdoors Sarasota
Sarasota
Sun Outdoors Sarasota gets JACK'D UP!
Sat, November 11
7:00pm - 10:00pm
$0
Clancy's Irish Sports Pub and Grill
Bradenton
Clancy's gets Jack'D Up!
Sat, November 18
6:00pm - 10:00pm
$0
Woody's River Roo
Ellenton
WOODY'S GETS JACK'D UP TONIGHT!
Sat, November 25
7:00pm - 11:00pm
$0
Siesta Key Beach
Siesta Key
Siesta Key Beach Seafood Festival '23
Sat, December 2
12:30pm - 2:00pm
$0
Woody's River Roo
Ellenton
WOODY'S CHRISTMAS DAY PARTY WITH JACK'D UP TONIGHT!
Mon, December 25
6:00pm - 10:00pm
$0
Clancy's Irish Sports Pub and Grill
Bradenton
Clancy's gets Jack'D UP!
Sat, December 30
6:00pm - 10:00pm
$0
Private Event
not disclosed
North Fort Myers gets Jack'D Up
Thu, February 22
1:00pm - 5:00pm
$0



Previous Events