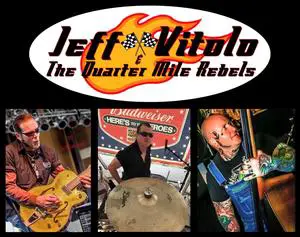 Jeff Vitolo & The Quarter Mile Rebels
Blues, Rock, Rockabilly, Rockin Blues
National recording artist JEFF VITOLO (a nominee for the TAMPA BAY MUSIC HALL OF FAME) is known for being in some of the best bands from the Tampa Bay area, of which some have reached national & international status.
From 1986 to now JEFF VITOLO has been a staple on the Florida music circuit and has also traveled the country from coast to coast performing at many famous music venues including CBGB in New York City, THE VIPER ROOM in Los Angeles, THE CONTINENTAL CLUB in Austin,TX. and many many more great venues in between playing in bands including THE DIVE BAR STALKERS, THE MOJO GURUS, ROXX GANG, TYGER TYGER, HEADSHOCK, INTICE, and continuing now as of Nov. 2012 with his new band JEFF VITOLO & THE QUARTER MILE REBELS.
From 1989-2018 JEFF VITOLO has released 17 great albums with independent and major label distribution that are also sold worldwide on iTunes, Amazon.com, Rhapsody & other digital media outlets. JEFF VITOLO has also worked with top notch producers including Jack Douglas (John Lennon, Aerosmith, Cheap Trick, New York Dolls, Alice Cooper) and Tom Morris (Beyonce, Seven Mary Three, Steve Morse, Iced Earth).
With alot of great musical accomplishments and a wide range of music over the years from rockabilly, blues, rock and metal, JEFF VITOLO has a special crossover appeal that attracts a wide range of fans which led him to sharing the stage as direct support for countless legendary artists including CHEAP TRICK, BLUE OYSTER CULT, MOUNTAIN, FOGHAT, MOLLY HATCHET, STEPPENWOLF, DICK DALE & HIS DEL-TONES, NAZARETH, SOUTHSIDE JOHNNY AND THE ASBURY JUKES, PAT TRAVERS, ROBIN TROWER, THE FABULOUS THUNDERBIRDS, HEAD EAST, VAN ZANT, JOHNNY LANG, TRAVIS TRITT, MARTINA McBRIDE, BLUES TRAVELER, RATT, CINDERELLA, BUCK CHERRY, TYPE-O-NEGATIVE, SAVATAGE, SAIGON KICK, CRIMSON GLORY, SPREAD EAGLE, LILLIAN AXE, BABYLON A.D., BROTHER CANE, BATON ROUGE, TYKETTO, XYZ, DANGEROUS TOYS, TORA TORA, HURRICANE, THE SCREAM, THE THROBS, GILBY CLARKE, ZAKK WYLDE, UNCLE KRACKER, THE RED ELVISES, THE ROCKETZ, THE BASTARD SONS OF JOHNNY CASH, THE CHOP TOPS, RAYBURN ANTHONY, BIG SANDY AND HIS FLY-RIGHT BOYS and many other great artists over the years.
For his new band THE QUARTER MILE REBELS, Jeff went out and found more great musician's to back him up adding Kenny Donahue on Upright Bass/Vocals & MIKE MURPHY on Drums.
JEFF VITOLO & THE QUARTER MILE REBELS mix rockabilly, blues and the roots of rock with plenty of swagger, attitude and alot of fun to make for a great & exciting stage show and also put their own high octane spin on songs by classic rockabilly, blues, and classic rock icons like ELVIS PRESLEY, JOHNNY CASH, JERRY LEE LEWIS, CARL PERKINS, GENE VINCENT, CHUCK BERRY, MUDDY WATERS, THE ROLLING STONES, THE DOORS, THE STRAY CATS and more giving the feel of their live shows as more of a "Rock N Roll Revival".
JEFF VITOLO & THE QUARTER MILE REBELS continue to record new music and perform at the biggest motorcycle events, classic car shows, city events, corporate events and nightclubs as well as headlining concerts or opening up for other national acts and are out to entertain and have fun with the crowds they perform to! Bringing their special brand of high octane rockabilly/roots rock with a mix of great original and classic cover songs, and don't be surprised if you see a few special guests joining them on stage from time to time!

Upcoming Events
There are no upcoming events scheduled.



Previous Events