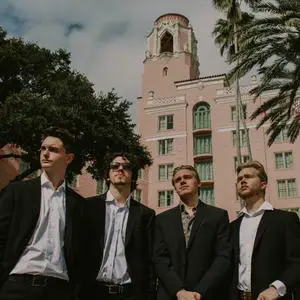 Speak Easy
Alternative, Jazz, R&B/Soul
Inspired by classic rock, pop and funk, Florida-based Speak Easy is an emerging alternative indie rock band with melodic hooks, dynamic performances and universal appeal that places a priority on live instrumentation and quality of delivery. The youthful group has preserved the highly-revered elements of 70's classic rock, Beatles pop, and R&B/funk in a well-crafted modern fusion of sonic depth - including vocal harmony - that can be enjoyed by a broad range of musical palates.
With effusive lyrics, danceable energy, tasteful electric guitar solos, and groove-driven rhythm, this 4-piece band delivers an undeniably positive vibe to any room. Fueled by sincere passion for making people move and strong desire to entertain, it is hard to find something not to like about these guys who speak nice and easy in person, too. With lead singer/guitarist Eric Yoder, singer/keyboardist K Sahagian, singer/bassist Brendon Porter, and drummer Jack Clements, this group delivers the right mix of classic style, well-developed musicianship, and a sunny disposition that is winning over fun-loving fans of all ages.
Their debut 'Living Room EP' was fully self-produced and released in 2018, alongside the single "1919", on all major platforms. They released two singles, Give Me Peace and "A New Kind of Old School" as well as their EP Bloom! in the summer of 2019.

Upcoming Events
There are no upcoming events scheduled.



Previous Events