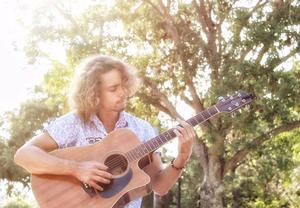 Chris Rastelli
Acoustic, Blues, Easy Listening, Jazz
Chris Rastelli Was born in La Rochelle, France to a multicultural family. He was exposed to music since birth and soon learned to love listening to it throughout his childhood. At the age of ten, he started learning guitar basics with his dad, but he did not start practising seriously until he moved to Italy in 2010 when he was 14, and started specializing in electric guitar at the Lizard Music Academy, run by Tonny Degruttola and Micky Bianco.

This was the beginning of an unstoppable passion for music that led him to spend countless hours practicing his skills and techniques throughout high school.

At the age of seventeen, Chris made a risky decision and moved to Florida from Italy to complete his senior year and graduate from Dunedin High School, even though his English level was limited to what he had been able to learn in Europe. He picked up the challenge successfully, while continuing to perfect his music skills through private classes and personal development. In 2016, Chris started working as a professional musician, and since then, he has met and been playing with many local musicians including René Crabapple (Shoeless Saul),Dave Guerula (Cope), Austin Llewellyn (Row Jomah), Vinny Svoboda (Displace) and more…

Chris has also been working as a guitar teacher at Universal Rock School (Largo) and at Westchase Music School (Tampa). Christian is currently the lead guitarist and singer for two local Bands Dash of Habit, and Eudaimonia.

Upcoming Events



Previous Events