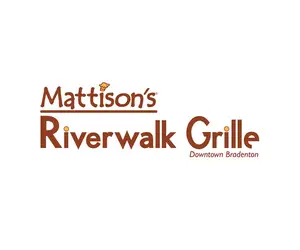 Mattison's Riverwalk Grille
101 Riverfront Blvd.
#120
Bradenton, FL 34205
(941) 896-9660
Map View:
Click here
At Mattison's we are committed to using all natural and sustainable ingredients in all of our menu creations. We source local produce and seafood as well as importing the freshest products from around the world. Our lamb, beef, poultry, and pork are antibiotic, hormone free and are raised on small family farms, where they are pasture fed and processed with the most humane practices. We truly believe you will taste the difference!

Upcoming Events
Artist
Date
Mark Unbanded

Thu, December 7
5:00pm - 9:00pm
Tropicats

Fri, December 8
6:00pm - 10:00pm
Donnie Bostic Music
Acoustic, Blues, Classic Rock, Country
Sat, December 9
6:00pm - 10:00pm
Royz Band
Classic Rock, High Energy Dance, Latin, R&B/Soul
The Royz @ Mattison's
Wed, December 13
5:00pm - 9:00pm
Mike Williams

Thu, December 14
5:00pm - 9:00pm
ROSE N' THORNE
Acoustic, Beatles, Classic Rock, Pop
BRADENTON, FL
Fri, December 15
6:00pm - 10:00pm
$$0
Tropicats

Sat, December 16
6:00pm - 10:00pm
Doug & Peter

Wed, December 20
5:00pm - 9:00pm
Rod Pettit

Thu, December 21
5:00pm - 9:00pm
Donnie Bostic Music
Acoustic, Blues, Classic Rock, Country
Fri, December 22
6:00pm - 10:00pm
Royz Band
Classic Rock, High Energy Dance, Latin, R&B/Soul
The Royz @ Mattison's
Wed, December 27
5:00pm - 9:00pm
John Rinell
60's Beach Rock, Acoustic, Beatles, Bluegrass
Thu, December 28
5:00pm - 9:00pm
Messenger
Classic Rock, Rock
Fri, December 29
6:00pm - 10:00pm
ROSE N' THORNE
Acoustic, Beatles, Classic Rock, Pop
BRADENTON, FL
Sat, December 30
6:00pm - 10:00pm
$$0
Donnie Bostic Music
Acoustic, Blues, Classic Rock, Country
Sun, December 31
8:00pm - 11:30pm
Royz Band
Classic Rock, High Energy Dance, Latin, R&B/Soul
The Royz @ Mattison's Riverwalk
Wed, January 10
5:00pm - 9:00pm
ROSE N' THORNE
Acoustic, Beatles, Classic Rock, Pop
BRADENTON, FL
Sat, January 13
6:00pm - 10:00pm
$0
Royz Band
Classic Rock, High Energy Dance, Latin, R&B/Soul
The Royz @ Mattison's Riverwalk
Wed, January 24
5:00pm - 9:00pm
ROSE N' THORNE
Acoustic, Beatles, Classic Rock, Pop
BRADENTON, FL
Fri, January 26
6:00pm - 10:00pm
$0
Royz Band
Classic Rock, High Energy Dance, Latin, R&B/Soul
The Royz @ Mattison's Riverwalk
Wed, February 7
5:00pm - 9:00pm
ROSE N' THORNE
Acoustic, Beatles, Classic Rock, Pop
BRADENTON, FL
Sat, February 10
6:00pm - 10:00pm
$0
ROSE N' THORNE
Acoustic, Beatles, Classic Rock, Pop
BRADENTON, FL
Fri, February 23
6:00pm - 10:00pm
$0
Royz Band
Classic Rock, High Energy Dance, Latin, R&B/Soul
The Royz @ Mattison's Riverwalk
Wed, February 28
5:00pm - 9:00pm
Royz Band
Classic Rock, High Energy Dance, Latin, R&B/Soul
The Royz @ Mattison's Riverwalk
Wed, March 6
5:00pm - 9:00pm
ROSE N' THORNE
Acoustic, Beatles, Classic Rock, Pop
BRADENTON, FL
Sat, March 9
6:00pm - 10:00pm
$0
Royz Band
Classic Rock, High Energy Dance, Latin, R&B/Soul
The Royz @ Mattison's Riverwalk
Wed, March 20
5:00pm - 9:00pm
ROSE N' THORNE
Acoustic, Beatles, Classic Rock, Pop
BRADENTON, FL
Fri, March 29
6:00pm - 10:00pm
$0
Royz Band
Classic Rock, High Energy Dance, Latin, R&B/Soul
The Royz @ Mattison's Riverwalk
Wed, April 3
5:00pm - 9:00pm
ROSE N' THORNE
Acoustic, Beatles, Classic Rock, Pop
BRADENTON, FL
Sat, April 13
6:00pm - 10:00pm
$0
Royz Band
Classic Rock, High Energy Dance, Latin, R&B/Soul
The Royz @ Mattison's Riverwalk
Wed, April 17
5:00pm - 9:00pm
ROSE N' THORNE
Acoustic, Beatles, Classic Rock, Pop
BRADENTON, FL
Sat, April 27
6:00pm - 10:00pm
$0
Royz Band
Classic Rock, High Energy Dance, Latin, R&B/Soul
The Royz @ Mattison's Riverwalk
Wed, May 8
5:00pm - 9:00pm
ROSE N' THORNE
Acoustic, Beatles, Classic Rock, Pop
BRADENTON, FL
Sat, May 11
6:00pm - 10:00pm
$0
Royz Band
Classic Rock, High Energy Dance, Latin, R&B/Soul
The Royz @ Mattison's Riverwalk
Wed, May 22
5:00pm - 9:00pm
ROSE N' THORNE
Acoustic, Beatles, Classic Rock, Pop
BRADENTON, FL
Fri, May 31
6:00pm - 10:00pm
$0
ROSE N' THORNE
Acoustic, Beatles, Classic Rock, Pop
BRADENTON, FL
Sat, June 8
6:00pm - 10:00pm
$0
ROSE N' THORNE
Acoustic, Beatles, Classic Rock, Pop
BRADENTON, FL
Fri, June 28
6:00pm - 10:00pm
$0



Past Events
Artist
Date
Donnie Bostic Music
Acoustic, Blues, Classic Rock, Country
December 6, 2023
5:00pm - 9:00pm
Damon Fowler
Blues
6th Annual Blues Brunch
December 3, 2023
11:00am - 2:00pm
Skyler Saufley and the 99th Degree
Americana, Blues, Rockabilly, Swing
Skyler Saufley Trio Blues After Party
December 2, 2023
7:00pm - 10:00pm
$None
Rockin' Rod Pettit

December 1, 2023
7:00pm - 10:00pm
Ron Kraemer
Blues, Jazz, Swing
Bradenton Blues Fest is in town this weekend!
November 30, 2023
6:00pm - 9:00pm