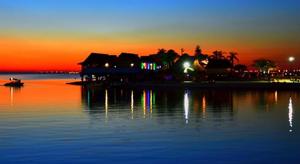 Whiskey Joe's Tampa
7720 West Courtney Campbell Causeway
Tampa, FL 33607
(813) 281-0770
Map View:
Click here
Whiskey Joe's Barefoot Bar - Tampa, Fl
Bare it all at Whiskey Joe's.
Whiskey Joe's has a NEW barefoot bar - complete with sand, sun, and fun.
Don't just grin...bare it.
Full Bar
Corn Hole
Private Beach
Firepits
Live Entertainment
Tampa's Only Boat-up Beach Bar
You can drive your boat, waverunner or raft, right up to the sand.
Party down at Whiskey Joe's Tampa.
There is no other place quite like it.

Upcoming Events
Artist
Date
John Frinzi
Acoustic, Americana, Easy Listening, Folk
Sun, May 28
1:00pm - 5:00pm
Sidewaze (Variety Duo)
Acoustic, Beatles, Classic Rock, Country
Sidewaze duo
Fri, June 2
6:00pm - 10:00pm
$0
Harmony Row (Acoustic Rock Duo)
Alternative, Classic Rock, Pop, Rock
Harmony Row duo
Fri, June 2
6:00pm - 10:00pm
$0
3 Foot Circle
Funk, Pop, R&B/Soul, Rock
3 Foot Circle in the sand!!!
Sun, June 11
1:00pm - 5:00pm
Jeremy Thomas
Rock
Fri, June 16
5:00pm - 9:00pm
Lisa Kay & The GoldTop Band
Classic Rock, High Energy Dance, Latin, R&B/Soul
Tue, July 4
5:00pm - 9:00pm
Matt Frick
Acoustic, Beatles, Blues, Classic Rock
Matt Frick on the upper deck
Fri, July 21
5:00pm - 8:30pm
Sidewaze (Variety Duo)
Acoustic, Beatles, Classic Rock, Country
Sidewaze (Acoustic Duo)
Sun, July 30
1:00pm - 5:00pm
$0
Sidewaze (Variety Duo)
Acoustic, Beatles, Classic Rock, Country
Sidewaze (Acoustic Duo)
Sun, August 13
1:00pm - 5:00pm
$0



Past Events
Artist
Date
Sidewaze (Variety Duo)
Acoustic, Beatles, Classic Rock, Country
Sidewaze (Acoustic Variety Duo)
May 21, 2023
1:00pm - 5:00pm
$0
Eric & Matt
Acoustic, Blues, Dead, Jam Band
Eric and Matt duo
May 19, 2023
6:00pm - 10:00pm
Trop Rock Junkies
60's Beach Rock, Americana, Classic Rock, Surf Rock
Tampa Bay PHC Meeting
May 17, 2023
6:00pm - 10:00pm
John Frinzi
Acoustic, Americana, Easy Listening, Folk
May 13, 2023
5:00pm - 9:00pm
Jeremy Thomas
Rock
JT at Whiskey Joe's
May 12, 2023
5:00pm - 9:00pm
$Free