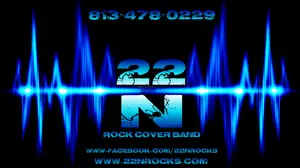 22N
High Energy Dance , Metal , Pop , Rock

We play music from Adele, The Weeknd, Maroon 5, STP, Lit, Rage Against The Machine, Bush, 3 Doors Down, Tom Petty, Lenny Kravitz, Avenge Sevenfold, Collective Soul, Crossfade, Smashing Pumpkins, Guns and Roses, Silvia, Cheval, Pop Evil, Linkin Park, Metallica, Buck Cherry, Nirvana, Hinder, Fuel, Aerosmith, House of Pain, Seether, Sevendust, Bush, Alice in Chains and Everclear.

We are a very High Energy group of 5 Musicians that is made up of business professionals. We are grateful and appreciates all our fans and venues that we play. We are there to work and get the crowd rocking and that is what we do best!!!

Upcoming Events



Previous Events


Fri, May 29, 2020
9:30 PM - 2:00 AM
Sarasota

Sat, May 23, 2020
8:00 PM to 11:00 AM
Siesta Key

Fri, May 22, 2020
9:00 PM to 1:00 AM
Tampa

Sat, May 16, 2020
7:00 PM - 11:00 PM Tonight Live $This is On for Tongiht!!!! See you there!!!
Ellenton

Fri, May 8, 2020
7:00 PM - 10:00 PM $8 reg 12 VIP
Venice