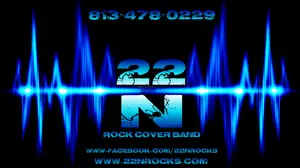 -22N-
High Energy Dance, Metal, Pop, Rock

ALWAYS a Party, NEVER Watered Down

We play music from Adele, The Weeknd, Maroon 5, STP, Lit, Rage Against The Machine, Bush, 3 Doors Down, Tom Petty, Lenny Kravitz, Avenge Sevenfold, Collective Soul, Crossfade, Smashing Pumpkins, Guns and Roses, Silvia, Cheval, Pop Evil, Linkin Park, Metallica, Buck Cherry, Nirvana, Hinder, Fuel, Aerosmith, House of Pain, Seether, Sevendust, Bush, Alice in Chains and Everclear.

We are a very High Energy group of 5 Musicians that is made up of business professionals. We are grateful and appreciates all our fans and venues that we play. We are there to work and get the crowd rocking and that is what we do best!!!

Upcoming Events
Venue
Date
Ringside Cafe
St. Petersburg
Sat, June 26
9:30 PM - 1:30

Gator Club
Sarasota
Fri, July 2
9:30 PM - 2:00

TT's (the Tiki) Bar on Charlotte Harbor
Punta Gorda
Sat, July 3
7:00 PM - 11:00

Ybor Live in Lakeland
Lakeland
Fri, July 9
7:00 PM - 11:00

Woody's River Roo
Ellenton
Sat, July 10
7:00 PM - 11:00

Mugs n Jugs - Largo
Largo
Fri, July 16
9:00 PM - 1:00

The Social NPR
New Port Richey
Sat, July 17
9:00 PM - 1:00

Stottlemyer's Smokehouse
Sarasota
Fri, July 23
7:00 PM - 11:00

Toasted Monkey
St. Pete Beach
Sat, July 24
7:00 PM - 11:00

Gator Club
Sarasota
Fri, July 30
9:30 PM - 2:00

Ringside Cafe
St. Petersburg
Sat, July 31
9:00 PM - 1:00

TT's (the Tiki) Bar on Charlotte Harbor
Punta Gorda
Sat, August 14
7:00 PM - 11:00

Stottlemyer's Smokehouse
Sarasota
Fri, August 20
7:00 PM - 11:00

Woody's River Roo
Ellenton
Sat, August 21
7:00 PM - 11:00

The Social NPR
New Port Richey
Fri, August 27
9:00 PM - 1:00

Gator Club
Sarasota
Sat, August 28
9:30 PM - 2:00

RockHouse Live Clearwater
Clearwater Beach
Fri, September 3
8PM to 12AM

Ringside Cafe
St. Petersburg
Sat, September 4
9:00 PM - 1:00

Stottlemyer's Smokehouse
Sarasota
Fri, September 10
7:00 PM - 11:00

Gator Club
Sarasota
Fri, September 17
9:30 PM - 2:00

Toasted Monkey
St. Pete Beach
Sat, September 18
6:00 PM - 10:00

The Social NPR
New Port Richey
Fri, September 24
9:00 PM - 1:00

Woody's River Roo
Ellenton
Sat, September 25
7:00 PM - 11:00

Mugs n Jugs - Largo
Largo
Fri, October 1
9:00 PM - 1:00

SandBar Tiki & Grille
Englewood
Sat, October 2
7:00 PM - 11:00

RockHouse Live Clearwater
Clearwater Beach
Fri, October 8
8PM to 12AM

Stottlemyer's Smokehouse
Sarasota
Sat, October 9
7:00 PM - 11:00

Ringside Cafe
St. Petersburg
Fri, October 22
9:00 PM - 1:00

Toasted Monkey
St. Pete Beach
Sat, October 23
6:00 PM - 10:00

TT's (the Tiki) Bar on Charlotte Harbor
Punta Gorda
Fri, October 29
7:00 PM - 11:00

Gator Club
Sarasota
Sat, October 30
8PM to 2AM

The Social NPR
New Port Richey
Fri, November 5
9:00 PM - 1:00

Downtown Crystal River
Crystal River
Sat, November 6
All Day
$10
RockHouse Live Clearwater
Clearwater Beach
Fri, November 12
8PM to 12AM

Mugs n Jugs - Largo
Largo
Fri, November 19
9:00 PM - 1:00

SandBar Tiki & Grille
Englewood
Sat, November 20
7:00 PM - 11:00

Gator Club
Sarasota
Fri, November 26
9:00 PM - 1:00

Toasted Monkey
St. Pete Beach
Sat, November 27
6:00 PM - 10:00

The Social NPR
New Port Richey
Fri, December 3
9:00 PM - 1:00

Ringside Cafe
St. Petersburg
Sat, December 4
9:00 PM - 1:00

SandBar Tiki & Grille
Englewood
Fri, December 10
7:00 PM - 11:00

Gator Club
Sarasota
Sat, December 11
9:30 PM - 2:00

RockHouse Live Clearwater
Clearwater Beach
Fri, December 17
8PM to 12AM

Woody's River Roo
Ellenton
Sat, December 18
7:00 PM - 11:00




Previous Events