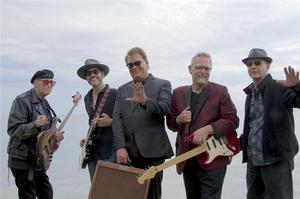 Backtrack Blues Band
Blues

The Backtrack Blues Band hails from the Tampa Bay region of Florida and has been performing original blues music since 1980. As one of Florida's longest running blues acts, Backtrack has performed with many blues legends : Stevie Ray Vaughan, B.B. King, Buddy Guy, Greg Allman, Koko Taylor, Johnny Winter, John Lee Hooker, and Robert Cray, just to mention a few.

This five-piece unit has an upbeat, electric blues sound reminiscent of the early Chicago blues scene. Sonny Charles supplies great amplified harmonica and vocals. Kid Royal plays lead and slide guitar and adds vocals as well. The solid rhythm section consists of Little Johnny Walter on rhythm guitar, Joe Bencomo on drums, and Stick Davis on bass. The band delivers its brand of original electric blues with the passion and integrity of a group that has spent decades refining its craft.

Upcoming Events
Venue
Date
Blue Rooster
Sarasota
Sat, January 29
8 to 11 pm
$10
MacRae's of Homosassa (aka The Shed)
Homosassa
Sat, February 5
4:00pm - 8:00pm

Ka'Tiki Beach Bar Sunset Beach
Treasure Island
Sat, February 12
7:00pm - 10:00pm

Whiskey Wings - Tyrone
St. Petersburg
Sat, February 26
7:00pm - 10:00pm

Floridian Social Club
St. Petersburg
Thu, March 10
8:00pm - 11:00pm

MacRae's of Homosassa (aka The Shed)
Homosassa
Sun, March 13
2:00pm - 6:00pm

3 Daughters Brewing
St. Petersburg
Fri, March 18
8:00pm - 11:00pm

Vinoy Park
St. Petersburg
Tampa Bay Blues Festival
Sun, April 10
01:00 PM - 02:00 PM
$Tickets
Blue Rooster
Sarasota
Sat, April 16
8:00pm - 11:00pm
$10
Whiskey Wings - Tyrone
St. Petersburg
Sat, May 21
7:00pm - 10:00pm

3 Daughters Brewing
St. Petersburg
Sun, June 12
2:00pm - 6:00pm

Whiskey Wings - Tyrone
St. Petersburg
Sat, June 25
7:00pm - 10:00pm

Whiskey Wings - Tyrone
St. Petersburg
Sat, August 6
7:00pm - 10:00pm

MacRae's of Homosassa (aka The Shed)
Homosassa
Sat, September 3
2:00pm - 6:00pm

3 Daughters Brewing
St. Petersburg
Fri, September 9
8:00pm - 11:00pm

Whiskey Wings - Tyrone
St. Petersburg
Sat, October 15
7:00pm - 11:00pm

MacRae's of Homosassa (aka The Shed)
Homosassa
Sat, December 3
2:00pm - 6:00pm

Whiskey Wings - Tyrone
St. Petersburg
Sat, December 17
7:00pm - 10:00pm




Previous Events