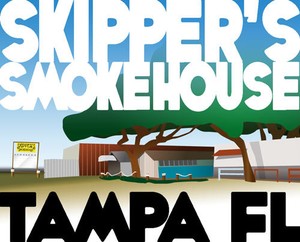 Skipper's Smokehouse
910 Skipper Road
Tampa, FL 33613
(813) 971-0666
Map View:
Click here
Tampa's iconic music venue and restaurant as seen on
Travel Channels' Man V. Food Nation, Adam Richman's Best Sandwich In America,
The Golf Channel's Golf Now, NBCSports' Charlie Moore: No Offense!

All shows are rain or shine. The music venue is outdoors, with about half the audience area being covered, so dress appropriately. Sensible footware, please!

Unless otherwise noted, all shows at Skipper's are 21 and up with a valid ID or you must be accompanied by a parent/guardian. Meaning that, yes, persons under 21 can attend if and only if they are accompanied by their parent or legal guardian.

Well-behaved children under 10 are free unless otherwise noted for that specific show; they must be accompanied by their legal parent or guardian unless otherwise noted for that specific show.

Other than service animals, dogs are not permitted in the concert area, in the restaurant or in the Oyster Bar. Plese leave the ferret/parrot/iguana/lemur/etc. at home.

Upcoming Events
Artist
Date
Uncle John's Band
Jam Band, Rock
Grateful Dead Nite
Fri, June 2
8:00pm - 11:00pm
$10
Sean Chambers
Blues, Rockin Blues
w/Savoy Brown Rhythm Section
Sat, June 3
8:00pm - 11:00pm
$10 pre/ 15 day of show
Selwyn Birchwood
Blues
Fri, June 9
8:00pm - 11:00pm
$Yes
Damon Fowler
Blues
w/Selwyn Birchwood!
Fri, June 9
8:00pm - 12:00am
$Yes



Past Events
Artist
Date
Trop Rock Junkies
60's Beach Rock, Americana, Classic Rock, Surf Rock
May 27, 2023
8:00pm - 11:00pm
$10
Stewart Tussing Band

May 21, 2023
6:00pm - 9:00pm
$12 pre/ 15 day of show
Kyle Ingram

Acoustic Sunday Brunch
May 21, 2023
1:30pm - 4:00pm
Four Star Riot
Rock
w/Grey Market & Mobius Loop
May 20, 2023
8:00pm - 11:00pm
$7 pre/ 10 day of show
Charlie Morris
Americana, Blues, Rock
Charlie Morris Band opening for Phoenix 5
May 19, 2023
7:00pm - 8:00pm