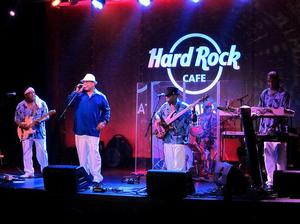 Bus Stop Band
Pop, R&B/Soul
Bus Stop is a five piece group of very talented artists.

Consisting of 3 of the Sanders' brothers and two very good friends. We have been "rockin' the world" for the past ten years.

We have made appearances at many and varied venues from colleges to comedy clubs. We have performed at Ruth Eckerd Hall and the Ice Palace.

We are the number one pick for corporate events, weddings, anniversaries and night clubs, benefits, private parties and just about any occasion that requires top-level entertainment.

We consider ourselves one happy family and we love what we do.

Upcoming Events
Venue
Date
Made In Italy Italian Restaurant and Martini Bar
Venice
Sat, June 10
9:00pm - 12:00am

Diesel Garage Grill & Bar
Palm Harbor
Band
Fri, June 23
07:00 PM - 11:00 PM

Woody's River Roo
Ellenton
Tue, June 27
5:00pm - 9:00pm

O'Briens Irish Pub Tampa Carrollwood
Tampa
Full Band
Fri, July 7
9:00pm - 1:00am

O'Briens Irish Pub Tampa Carrollwood
Tampa
Full Band
Fri, August 11
9:00pm - 1:00am

Made In Italy Italian Restaurant and Martini Bar
Venice
Sat, September 9
9:00pm - 12:00am

Made In Italy Italian Restaurant and Martini Bar
Venice
Sat, October 28
9:00pm - 12:00am

O'Briens Irish Pub Tampa Carrollwood
Tampa
Full Band
Sat, November 25
9:00pm - 1:00am

O'Briens Irish Pub Tampa Carrollwood
Tampa
Full Band
Sat, December 16
9:00pm - 1:00am

Diesel Garage Grill & Bar
Palm Harbor
Band
Sat, December 23
7:00pm - 11:00pm




Previous Events