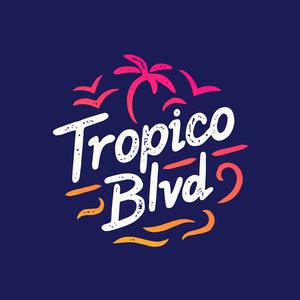 Tropico BLVD
Alternative, Americana, Jam Band, Rock

Pronounced Traw-PEE-Koh
Quirky, sunshine-fueled fusion rock from Tampa Bay. Combining roots rock, Latin rhythms with searing guitars; heavy hitting grooves and hypnotic harmonies, Tropico Blvd balances intricate fusion & alternative pop-rock with their brand of catchy songwriting, powerful vocals and improvisational jams.
Founded in Brooklyn, NY by singer-songwriter and multi-instrumentalist Miguel Lantigua in 2014 with friends and local musicians. Tropico Blvd's first show was at a loft party, yet the band quickly made a name for themselves with their eclectic songwriting, grassroots use of social media and unique live performances. The band, led by Lantigua, played many local shows ranging from secret basement parties to festivals, cozying up with local New York City jam bands such Polyvamp & Formula 5. After a copy of Lantigua's demo got into the hands of an engineering assistant of producers Dan Grigsby (Joe Cocker, Rolling Stones) & Ron London (Dave Matthews Band) the two offered to help him record parts of what would later become the groundwork for most his first album.
In 2016 Lantigua moved to St Petersburg, FL to reform the group and finish the debut LP 'It's Gonna Be A Good Day' with the help of engineer Daniel Mayer, which was released in June of 2017. He began performing with a new incarnation of the band that included bassist Dan Gaily & drummer Adam Mann. The trio would hone the sound that was to become their current aesthetic.
In late 2017, guitarist and vocalist Audri Short & NoNeed keyboardist and saxophonist Cody Moore joined the lineup. Don Becknell & Kaimesha Wray joined as lighting technicians shortly afterward and are all currently performing together in the Greater Tampa Bay Area.
Tropico Blvd is currently producing material for their next album 'Neighborhood Watch' slated for 2019.

Upcoming Events
Venue
Date
Vinoy Park
St. Petersburg
Sat, October 3
Reggae Rise Up
$Tickets



Previous Events