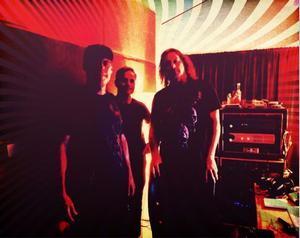 Down from Trees
Alternative, Rock, Rockin Blues

Down From Trees are Brian Bray, Eric Ihlenfeldt and Brian Olmsted, an all-original rock band hailing from the Tampa Bay Area in Florida. The band started in 2015 when singer/guitarist/songwriter Brian Bray met bassist/vocalist Eric Ihlenfeldt and gained momentum when drummer/vocalist Brian Olmsted joined in July 2017. Within three weeks of the grouping they were in the studio and began working on the "Upright" CD to be released in Jan 2018.
Olmsted brings metal drive to the beat, while Ihlenfeldt crafts the bottom from a host of prog/folk/alt/pop influences and Bray powers the guitar with heavy rock/blues/alt and insightful lyrical contemplation on the human experience. All three members sing which adds a rich layer of choral ala Beatles, Yes, and even Alice In Chains, lifting the music to a higher dimension. The music ranges from bluesy-grooves, soulful power and pop sensibilities – while at its heart beats rock. The resulting sound is unique, yet familiar, a true combination of classic and modern rock.

Upcoming Events
There are no upcoming events scheduled.



Previous Events
Venue
Date
Blue Note
Tampa
July 26, 2019
7pm-midnight
$Yes
Pegasus Lounge
Tampa
May 4, 2019
9pm John Hopkins Benefit
$John Hopkins Benefit
Blue Note
Tampa
March 8, 2019
8pm
$10.00
Blue Note
Tampa
February 2, 2019
6:15
$10.00
Blue Note
Tampa
December 1, 2018
6-12
$10.00