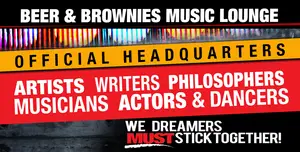 Beer & Brownies Music Lounge
2312 West Waters Ave
Suite 3
Tampa, FL 33604
(813) 304-2118
Map View:
Click here
Music lounge specifically designed for dreamers, musicians, artists & poets where everyone is in our living room & part of a communal friendly scene.

This establishment is CASH ONLY


Upcoming Events
There are no upcoming events scheduled.



Past Events
Artist
Date
OPEN MIC WEDNESDAY

Wed, July 11
7:30 PM
EDM Night

Sat, July 7
8:30 PM
Dj (Saturday Night Fever)

Sat, June 30
8:00pm
Taylor Reed
Acoustic
Fri, June 29
7 PM to 11 PM
Homecookin' Band
R&B/Soul, Southern Rock
Fri, June 29
7 P.M. to 11 P.M.