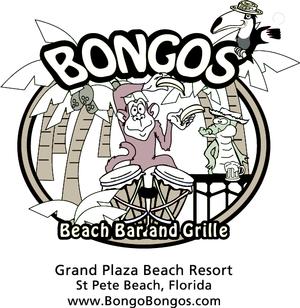 Bongo's Beach Bar and Grille
5250 Gulf Boulevard
St. Pete Beach, FL 33706
(727) 360-1811
Map View:
Click here
Bongos Beach Bar & Grille is a fun and causal beachside bar that is open to the public with daily food specials and discount drinks.

Come join us for happy hour and watch the beautiful sunset while sipping on cool cocktails and fantastic frozen drinks. If you enjoy watching sports, Bongos is the place for you. We play all the sports games you want to see. Our popular menu consists of mouth-watering selections and dishes. If you're searching for tempting light bites such as coconut crusted shrimp, crab cakes, mango glazed scallops or some outstanding buffalo wings, then look no further.

Our dining tables allow you to enjoy your dinner and cocktails while putting your toes in the sand or on one of our multi-level deck areas. You can also enjoy our famous fish tacos, specialty sandwiches, flatbreads, wraps, seasonal salads and signature pasta dishes. As the evening air cools, enjoy lounging by our romantic fireside on our deep cushioned sofas and chairs. Our fire pit will keep you cozy and warm while enjoying live music every night from some of the top bands in the area.

Upcoming Events


Leo Duo
Thu, April 25, 2019

Leo Duo
Thu, April 25, 2019

Gary A.
Fri, April 26, 2019

Danto
Fri, April 26, 2019


Thirdstone
Sat, April 27, 2019


Danto
Sun, April 28, 2019

Gary A.
Mon, April 29, 2019

David Cattani
Mon, April 29, 2019


Danto
Tue, April 30, 2019




Past Events


Casey Allen
Wed, April 24, 2019



Danto
Tue, April 23, 2019

Gary A.
Mon, April 22, 2019