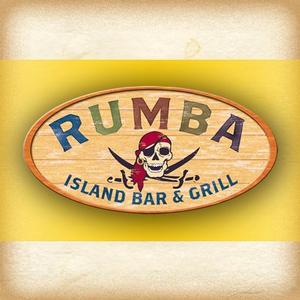 Rumba Island Bar and Grill - Clearwater
1800 Gulf to Bay Blvd
Clearwater, FL 33765
(727) 446-7027
Map View:
Click here
Come and join us at the Rumba Island Bar & Grill. Taste the flavors of the islands and sit back and relax with friends. Rumba Island Bar & Grill is open seven days a week for lunch and dinner. Make sure you try one of our signature drinks at the Tiki Bar and Deck on the way in!

CLAPPING YOUR HANDS WHEN YOU LIKE A BAND IS WAY BETTER THAN CLICKING SOME LIKE BUTTON.

COME JOIN US FOR LIVE MUSIC!

OUR ONE-MAN-BAND WILL SWOON YOU WITH A VARIETY OF EASY LISTENING TOONS.

Upcoming Events
Artist
Date
Mark McGourley
Acoustic, Pop, Reggae, Rock
Sat, August 20
6:00pm - 10:00pm
Mark McGourley
Acoustic, Pop, Reggae, Rock
Sat, August 27
6:00pm - 10:00pm
Mark McGourley
Acoustic, Pop, Reggae, Rock
Sat, September 3
6:00pm - 10:00pm
Mark McGourley
Acoustic, Pop, Reggae, Rock
Sat, September 10
6:00pm - 10:00pm
Mark McGourley
Acoustic, Pop, Reggae, Rock
Sat, September 24
6:00pm - 10:00pm



Past Events
Artist
Date
Steve Isaac
Alternative, Classic Rock, Contemporary, Pop
Rumba's Clearwater
August 13, 2022
6:00pm - 10:00pm
Mark McGourley
Acoustic, Pop, Reggae, Rock
July 23, 2022
6:00pm - 10:00pm
Mark McGourley
Acoustic, Pop, Reggae, Rock
July 9, 2022
6:00pm - 10:00pm
Steve Isaac
Alternative, Classic Rock, Contemporary, Pop
Rumba
July 1, 2022
6:00pm - 10:00pm
Mark McGourley
Acoustic, Pop, Reggae, Rock
June 25, 2022
6:00pm - 10:00pm