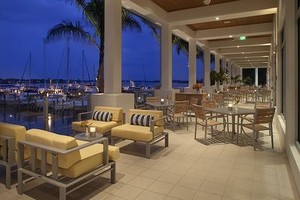 Sarasota Yacht Club
1100 John Ringling Blvd
Sarasota, FL 34236
(941) 365-4191
Map View:
Click here
Sheltered among the sub-tropical bays and inlets hard by downtown Sarasota and surrounding keys, SYC is the ideal spot to cast off for a cruise or for fishing any time of year. And it complements the great life style that Sarasota offers: sports... shopping... art galleries... college/university... performing arts center... design and art school...restaurants and wonderful weather.
The Sarasota Yacht Club has a deep commitment to the yachting tradition. Founded in 1926, SYC is one of the original 13 members of the Florida Council of Yacht Clubs. Members reflect that heritage: they are successful business and professional people from all parts of the United States and Europe. And because the club is member controlled, each member has a voice in the use and care of the club?s facilities and services. Membership spans age and professional experience. Camaraderie abounds. Amenities are extraordinary. Activities are many.
In this private, year-round club, the only limitation is how much members want to participate. Whether a member owns a boat or not, the Sarasota Yacht Club offers the benefits of a private social club with extraordinary services and facilities.

Upcoming Events
Artist
Date
Ron Kraemer
Blues, Jazz, Swing
Private event
Sun, March 26
11:30am - 2:30pm
Ron Kraemer
Blues, Jazz, Swing
Private event
Sun, May 28
11:30am - 2:30pm



Past Events
Artist
Date
Ron Kraemer
Blues, Jazz, Swing
Private event
January 29, 2023
11:30am - 2:30pm
Ron Kraemer
Blues, Jazz, Swing
Jazz Brunch!
December 18, 2022
11:30am - 2:30pm
ROSE N' THORNE
Acoustic, Beatles, Classic Rock, Pop
SARASOTA,FL
December 2, 2022
7:00pm - 10:00pm
$$0
Ron Kraemer
Blues, Jazz, Swing
Jazz Brunch!
August 14, 2022
11:30am - 2:30pm
Lisa Ridings DUO
High Energy Dance, Pop, Rock
August 7, 2022
1:00pm - 4:00pm