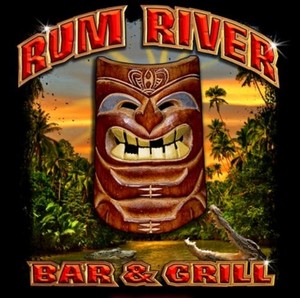 Catches Rum River Bar and Grill
7811 Bay View Ave.
Port Richey, FL 34668
(727) 849-2121
Map View:
Click here
Opened in October of 2009 Rum River is Pasco County's largest waterfront Tiki bar located next to Catches Waterfront Grille on the Cotee River. Rum River features a diverse menu with a large selection of appetizers sandwiches and entrees.

In addition to the Rum River Bar and Grill, Catches is also scheduling music at the Sunset Patio Bar.

Rum River and the Sunset Patio Bar are boat accessible, so come by land or sea, all are welcome.

Upcoming Events
Artist
Date
Eric Anderson
Acoustic, Classic Rock
The Solo Acoustic Classic Rock & Roll Happy Hour!
Thu, December 7
5:00pm - 8:00pm
Flying High
Blues, Classic Rock, Reggae, Rock
Rum River (Alan & Derek)
Fri, December 8
6:00pm - 9:00pm
At Large
Ballroom, Blues, Classic Rock, Contemporary
Rockin' seafood, cool vibes and great music
Sat, December 9
6:00pm - 10:00pm
John Allen James
Acoustic, Americana, Classic Rock, Pop
John Allen James LIVE at Rum River!
Thu, December 14
5:00pm - 8:00pm
BLU
Acoustic, Classic Rock, Folk, Pop
Thu, December 28
5:30pm - 8:30pm
John Allen James
Acoustic, Americana, Classic Rock, Pop
John Allen James Early New Year's Eve Party!
Sun, December 31
4:00pm - 8:00pm
Autumn June
Acoustic, Classic Rock, Country, Folk
Sun, January 28
2:00pm - 6:00pm
Autumn June
Acoustic, Classic Rock, Country, Folk
Sun, February 25
2:00pm - 6:00pm
Autumn June
Acoustic, Classic Rock, Country, Folk
Sun, March 24
2:00pm - 6:00pm
Autumn June
Acoustic, Classic Rock, Country, Folk
Sun, April 28
2:00pm - 6:00pm
Autumn June
Acoustic, Classic Rock, Country, Folk
Sun, May 26
2:00pm - 6:00pm
Autumn June
Acoustic, Classic Rock, Country, Folk
Sun, June 23
2:00pm - 6:00pm
Autumn June
Acoustic, Classic Rock, Country, Folk
Sun, July 28
2:00pm - 6:00pm
Autumn June
Acoustic, Classic Rock, Country, Folk
Sun, August 25
2:00pm - 6:00pm
Autumn June
Acoustic, Classic Rock, Country, Folk
Sun, September 22
2:00pm - 6:00pm



Past Events
Artist
Date
Flying High
Blues, Classic Rock, Reggae, Rock
Rum River (Alan & Derek)
December 1, 2023
6:00pm - 9:00pm
BLU
Acoustic, Classic Rock, Folk, Pop
November 30, 2023
5:30pm - 8:30pm
Autumn June
Acoustic, Classic Rock, Country, Folk
November 26, 2023
2:00pm - 6:00pm
Flying High
Blues, Classic Rock, Reggae, Rock
Rum River (Alan & Derek)
November 24, 2023
6:00pm - 9:00pm
Flying High
Blues, Classic Rock, Reggae, Rock
Rum River (Alan & Derek)
November 17, 2023
6:00pm - 9:00pm