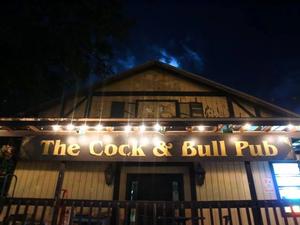 Cock & Bull
975 Cattlemen Road
Sarasota, FL 34232
(941) 877-1262
Map View:
Click here
About
Since 1997, Sarasota's premier beer destination. 40 draughts, Over 900 bottles! Live original music every weekend in the beer garden! Handmade pizza & pretzels. Ranked by BeerAdvocate.com #6 in America!
Mission
To bring you the best time of your life via awesome beer, incredible pizza, the best original music we can find. CHEERS!
Description
...with sixteen years under our belt, countless awards, unsurpassed ranking of #6 BeerBar in America, hundreds of parties & some kick ass pizza...make no mistake about it, we are still a mom & pop place! On weekends the lines are long & our kitchen gets backed up. Please be patient & stop kvetching....happy quaffing.


Upcoming Events
There are no upcoming events scheduled.



Past Events
Artist
Date
Richard Open Mic
Acoustic, Blues, Classic Rock, Country
Mon, March 16
7:30-11pm
Richard Open Mic
Acoustic, Blues, Classic Rock, Country
Mon, February 17
7:30pm
Richard Open Mic
Acoustic, Blues, Classic Rock, Country
Mon, January 20
7:30pm
Richard Open Mic
Acoustic, Blues, Classic Rock, Country
Mon, December 16
7:30pm
Richard Open Mic
Acoustic, Blues, Classic Rock, Country
Mon, November 18
7:30pm