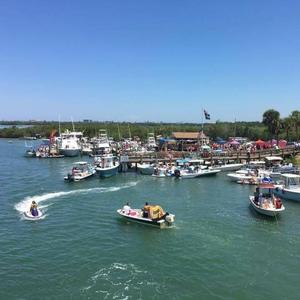 Little Jim Bait and Tackle
601 N Causeway
Fort Pierce, FL 34949
(772) 468-2503
Map View:
Click here
FORT PIERCE'S ONLY- WATERFRONT DINING, MARINA AND BAIT SHOP WITH LIVE MUSIC. DOG AND FAMILY FRIENDLY!

Originally built during WW2 as a U.S. Navy guard-post to access the UDT (later SEAL teams) training ground on the Island. When WW2 ended the Navy abandoned it and some self starter moved in and started selling bait and beer. Oddly enough his name wasn't Jim, nor can we find any clue that a Jim ever had anything to do with the place!
Weird, right?
Flash forward 74 years, Beer and Bait are still offered, but there is a Little Jim now! It's a cat who clearly thinks he owns the joint and staff and customers alike are there solely to amuse him......

Upcoming Events
There are no upcoming events scheduled.



Past Events
Artist
Date
Leafy Greens Band (SE FL)
Americana
April 23, 2023
3:00pm - 7:00pm
Dave Goodman

April 23, 2023
11:30am - 2:30pm
Good Noise

April 22, 2023
3:00pm - 7:00pm
Mich Moore

April 22, 2023
11:30am - 2:30pm
Jason Montero

April 21, 2023
3:00pm - 7:00pm