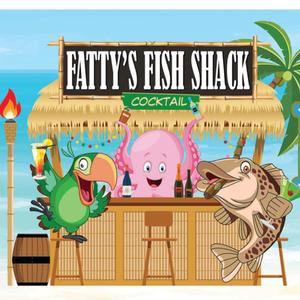 Fatty's Fish Shack
1026 Nebraska Ave.
Palm Harbor, FL 34683
(727) 351-5151
Map View:
Click here
Kick back at Fatty's Fish Shack!

This area is known for its seafood options, with locally caught fish and other seafood on our menu, only the freshest seafood is served at unbeatable prices.

The downtown area of Palm Harbor is home to many of the city's restaurants and bars and offers a variety of dining and entertainment options.

Whether you're in the mood for a casual meal at a café or a fine dining experience at a seafood restaurant, you'll be able to find what you're looking for at Fatty's Fish Shack. It's a thriving culinary scene, with something to suit every taste and occasion. Fatty's Fish Shack is one of the best spots to visit if you love seafood cuisine and want some of the tastiest delicacies in Palm Harbor.

Upcoming Events
Artist
Date
Ben Rogers Band

Sat, September 30
8:30pm - 11:30pm
$free
I-Ruption

Sun, October 1
02:00 PM - 06:00 PM
$free
Tropicana Tim

Mon, October 2
6:00am - 9:00am
$free
Renee Schlegel

Tue, October 3
6:00pm - 9:00pm
$free
CARL AUGUST

Wed, October 4
6:00pm - 9:00pm
$free
Jimmy Suvoy Xperiment
Alternative, Classic Rock, Country, Rockabilly
Thu, October 5
6:00pm - 9:00pm
$free
Bruce Katz Band
Blues
Fri, October 6
6:00pm - 9:00pm
$free
Flipside
Classic Rock, Pop, Rock
Flipside @ Fatty's Fishshack in Palm Harbor!
Sat, October 7
8:30pm - 11:30pm
Dave Arazmo
Acoustic, Americana, Classic Rock, Comedy
Dave Rocks Palm Harbor!
Wed, October 11
6:00pm - 9:00pm
Oysterbone
Classic Rock, Rock
Oysterbone Live @ Fatty's Fish Shack
Fri, October 13
8:30pm - 11:30pm
Autumn June
Acoustic, Classic Rock, Country, Folk
Wed, October 18
6:00pm - 9:00pm
AudioStar
High Energy Dance, Pop, Rock
Fri, October 27
8:30am - 11:30am
The Red Sunday
High Energy Dance, Pop, Rock
TRS @ Fatty's Fish Shack!
Sat, October 28
08:30 PM - 11:30 PM
Oysterbone
Classic Rock, Rock
Oysterbone Live @ Fatty's Fish Shack
Sat, November 4
8:30pm - 11:30pm
Autumn June
Acoustic, Classic Rock, Country, Folk
Wed, November 15
6:00pm - 9:00pm
AudioStar
High Energy Dance, Pop, Rock
Fri, November 17
8:30pm - 11:30pm
The 727s Band
Classic Rock, Country, High Energy Dance, Rock
The 727s Band @ Fatty's Fish Shack - Palm Harbor
Wed, November 22
7:30pm - 11:30pm
Flipside
Classic Rock, Pop, Rock
Flipside at Fatty's Fish Shack
Sat, November 25
8:30pm - 11:30pm
The 727s Band
Classic Rock, Country, High Energy Dance, Rock
The 727s Band @ Fatty's Fish Shack - Palm Harbor
Fri, December 8
7:30pm - 11:30pm
AudioStar
High Energy Dance, Pop, Rock
Fri, December 15
8:30pm - 11:30pm
Oysterbone
Classic Rock, Rock
Oysterbone Live at Fatty's Fish Shack Palm Harbor
Sat, December 23
8:30pm - 11:30pm
$0



Past Events
Artist
Date
Flipside
Classic Rock, Pop, Rock
Flipside
September 29, 2023
8:30am - 11:30am
Bill Blackburn
Acoustic, Classic Rock, Pop, Rock
September 28, 2023
06:00 PM - 09:00 PM
$free
Rich Sheldon
Acoustic, Americana, Jam Band, Rock
September 27, 2023
6:00pm - 9:00pm
$free
Josh Geercken

September 26, 2023
6:00pm - 9:00pm
$free
Tropicana Tim

September 25, 2023
6:00pm - 9:00pm
$free