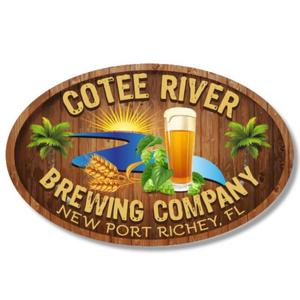 Cotee River Brewing Company
5760 Main St,
New Port Richey, FL 34652
(727) 807-6806
Map View:
Click here
Cotee River Brewing Company is excited to be the first brewery located in historic downtown New Port Richey.

Our first beer, Market Fresh Wheat, is a mix of our light wheat with a citrus herbal tea. While we plan on making additional brew in the near future, we wanted to start with one that is sure to become our signature.

Upcoming Events
Artist
Date
Big Foot Band / Doc Shaker's Blues Remedy
Blues, Classic Rock, Rockabilly, Rockin Blues
DOC SHAKER'S BLUES REMEDY AT COTEE RIVER
Sat, July 16
7:00pm - 10:00pm
Fred Chandler Music
Acoustic, Classic Rock, Pop, Rock
Acoustic Solo
Sat, July 30
7:00pm - 10:00pm
Charlie Stamas
Acoustic, Pop
Sun, August 7
3:00pm - 6:00pm
Big Foot Band / Doc Shaker's Blues Remedy
Blues, Classic Rock, Rockabilly, Rockin Blues
DOC SHAKER'S BLUES REMEDY AT COTEE RIVER
Sat, August 20
7:00pm - 10:00pm
Big Foot Band / Doc Shaker's Blues Remedy
Blues, Classic Rock, Rockabilly, Rockin Blues
DOC SHAKER'S BLUES REMEDY AT COTEE RIVER
Sat, September 17
7:00pm - 10:00pm
Fred Chandler Music
Acoustic, Classic Rock, Pop, Rock
Acoustic Solo
Sat, September 24
7:00pm - 10:00pm
Charlie Stamas
Acoustic, Pop
Sun, October 2
3:00pm - 6:00pm
Big Foot Band / Doc Shaker's Blues Remedy
Blues, Classic Rock, Rockabilly, Rockin Blues
DOC SHAKER'S BLUES REMEDY AT COTEE RIVER
Sat, October 22
7:00pm - 10:00pm
Big Foot Band / Doc Shaker's Blues Remedy
Blues, Classic Rock, Rockabilly, Rockin Blues
DOC SHAKER'S BLUES REMEDY AT COTEE RIVER
Sat, November 19
7:00pm - 10:00pm
Fred Chandler Music
Acoustic, Classic Rock, Pop, Rock
Acoustic Solo
Sat, November 26
7:00pm - 10:00pm
Charlie Stamas
Acoustic, Pop
Sun, December 4
3:00pm - 6:00pm
Big Foot Band / Doc Shaker's Blues Remedy
Blues, Classic Rock, Rockabilly, Rockin Blues
DOC SHAKER'S BLUES REMEDY AT COTEE RIVER BREWING
Sat, December 10
7:00pm - 10:00pm



Past Events
Artist
Date
Big Foot Band / Doc Shaker's Blues Remedy
Blues, Classic Rock, Rockabilly, Rockin Blues
DOC SHAKER'S BLUES REMEDY AT COTEE RIVER
June 18, 2022
7:00pm - 10:00pm
Celtic Conundrum
Americana, Folk, Rock
June 11, 2022
7:00pm - 10:00pm
Charlie Stamas
Acoustic, Pop
June 5, 2022
3:00pm - 6:00pm
Fred Chandler Music
Acoustic, Classic Rock, Pop, Rock
Acoustic Solo
May 28, 2022
7:00pm - 10:00pm
Big Foot Band / Doc Shaker's Blues Remedy
Blues, Classic Rock, Rockabilly, Rockin Blues
DOC SHAKER'S BLUES REMEDY AT COTEE RIVER
May 14, 2022
7:00pm - 10:00pm