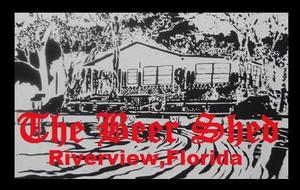 Beer Shed
11222 Casa Loma Dr
Riverview, FL 33569
(813) 671-1885
Map View:
Click here
One of the oldest drinking establishments in the Tampa Bay area, the historic and world famous Beer Shed sits on the banks of the beautiful Alafia River. A quaint, easy going place with ice cold beer, wine and great home style cooked food. Live music on Thursday, Saturday and Sunday. Karaoke on Wednesday, Friday and Sunday nights. WiFi access and a great view of the river and nature in action. Check the schedule for events.
Dock available for your boat when you take that Sunday ride...
Always biker friendly
Bookings available for events.
Beautiful setting!

Upcoming Events
Artist
Date
Summit Kings
Blues, Classic Rock, Southern Rock
Summit Kings Rocking Down by the River
Sun, May 28
2:30pm - 6:30pm
$0
CopperWing Band
Classic Rock, Country, Reggae, Rockin Blues
CopperWing at the beer shed
Sun, August 27
2:30pm - 6:30pm



Past Events
Artist
Date
CopperWing Band
Classic Rock, Country, Reggae, Rockin Blues
CopperWing At Beer Shed Riverview
April 30, 2023
2:30pm - 6:30pm
CopperWing Band
Classic Rock, Country, Reggae, Rockin Blues
CoppeWing at the Beer shed
February 26, 2023
2:30pm - 6:30pm
CopperWing Band
Classic Rock, Country, Reggae, Rockin Blues
CopperWing at the Beer Shed
September 18, 2022
2:30pm - 6:30pm
CopperWing Band
Classic Rock, Country, Reggae, Rockin Blues
Copperwing at the Beer Shed
July 31, 2022
2:30pm - 6:30pm
CopperWing Band
Classic Rock, Country, Reggae, Rockin Blues
Copperwing at the BeerShed
June 5, 2022
2:30pm - 6:30pm