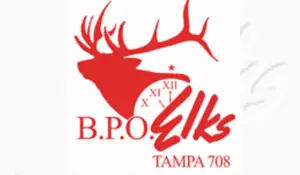 Elks Lodge #708 Tampa
3616 W. Gandy Blvd.
Tampa, FL 33611
(813) 503-3204
Map View:
Click here
Tampa Elks is a charitable and fraternal organization BPOE. We often have great events we open to the public as membership drives and welcome patriotic citizens to visit us and see what a fun and great charitable organization we are.

Upcoming Events
There are no upcoming events scheduled.



Past Events
Artist
Date
Charlie Imes
Acoustic, Americana, Classic Rock, Easy Listening
Charlie Imes plays Feel-Good, Coastal Americana
September 23, 2022
6:30pm - 10:30pm
Just Brad- Tampa (on 88 Keys)
Country, Latin, Pop
October 23, 2020
5pm - 10pm
$0
Just Brad- Tampa (on 88 Keys)
Country, Latin, Pop
March 13, 2020
630pm-10pm
$0
Just Brad- Tampa (on 88 Keys)
Country, Latin, Pop
March 6, 2020
630pm-10pm
$0
Just Brad- Tampa (on 88 Keys)
Country, Latin, Pop
February 21, 2020
630pm-10pm
$0