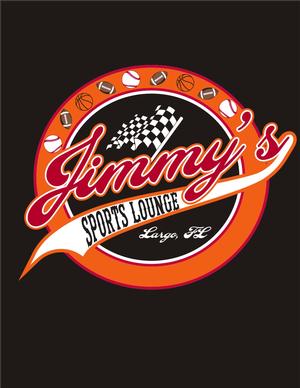 Jimmy's Sports Lounge
1200 Clearwater-Largo Road
Largo, FL 33770
(727) 400-6803
Map View:
Click here
Live Music/Free Games/Chance to win CASH every day/night. Two Awesome Happy Hours.
Mon-Fri 8 am to Noon BOGOHO (buy 1 get 1 half off)****50 CENT DRAFTS*** Mon-Sat Happy Hour ALL DAY LONG til 7 pm.
MONDAY- FREE BLACKJACK
7 PM ***Karaoke by Johnny Laidlaw at 9 pm
TUESDAY - FREE BAR BINGO 7 p.m. -- FREE LIVE TRIVIA BY KRISTIE BLUE and 7 pm. LIVE MUSIC AND GAME NIGHT STARTS AT 9 pm - all games open for free play..pool, darts, bowling, golf, Live Music rotates on Tuesdays, so come check out the new Fresh Talent...It's ALWAYS amazing music at Jimmy's !!
8pm Late Night Texas HoldEm Every Tuesday (FREE)
WEDNESDAY -FREE BLACKJACK
7 PM *** ALL NEW OPEN JAM HOSTED BY JERRY CHASE AND THE DEJA VU BAND 9 pm - Looking for a few more good men/women to book consistamt gigs...This is where we look first...so BRING IT !!!
THURSDAY - LADIES NIGHT WITH DJ MARLON..
Lingerie Show Coming Back !!! Awesome drink specials for the ladies and gents.... Frozen Drink are our specialty !! ****All games are FREE with No Purchase Necessary to Play or Win! Prizes consist of CASH/BAR TABS/TONS OF OTHER COOL THINGS!!
FRIDAY & SATURDAY AT 930 we feature some of the best bands in the Tampa Bay Area.
**"LIKE" US ON FACEBOOK TO STAY CURRENT WITH OUR GAMES AND ENTERTAINMENT**
**All we do is our gift to You!!! There's NEVER EVER A COVER CHARGE***

Upcoming Events
There are no upcoming events scheduled.



Past Events
Artist
Date
Bill Floyd
Acoustic, Americana, Contemporary, Country
July 29, 2022
4:00pm - 7:00pm
Dracula Parrot
Alternative, Classic Rock, Funk, Rock
DRACULA PARROT @ Jimmy's Sports Lounge
June 18, 2022
9:30pm - 1:30am
Underground Pilot
Classic Rock, Funk, High Energy Dance, Southern Rock
May 27, 2022
9:30pm - 1:30am
$No
Jimmy Suvoy Xperiment
Alternative, Classic Rock, Country, Rockabilly
April 23, 2022
9:30pm - 1:30am
Bill Floyd
Acoustic, Americana, Contemporary, Country
April 17, 2022
3:00pm - 7:00pm