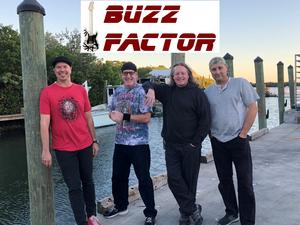 Buzz Factor is a fun-loving band playing rock-n-roll covers from the 70's to 2000's. Bands like Van Halen, Stone Temple Pilots, The Cars, Aerosmith, Tom Petty and much more. We are professional, organized, and flexible. If you are hiring us, you are the boss and we want you to be happy with the show. We play to have fun and it shows on stage. Ted (guitar), Pliny (bass & keyboards) and Greg (drums) have been together since 2015 with Raymond (lead vocals) joining in 2019.

Buzz Factor believes that if you are going to see a cover band, you want to songs to sound just like the recordings that you all know and love so that is how we approach them. Either going for the studio version or a published live version, you will recognize the song long before the lyrics come in.

Buzz Factor plays in Hillsborough, Polk, Pasco, Pinellas, and Manatee counties. Check out our Facebook events for past shows and up coming shows. www./facebook.com/buzzfactor.tampa
We hope to see you soon.

Upcoming Events
Venue
Date
Caribbean Bay Bar
Winter Haven
Buzz Factor at Caribbean Bay
Sat, September 30
2:00pm - 6:00pm

Pete's Place North
Tampa
Buzz Factor at Pete's Place on Dale Mabry
Fri, October 20
7:00pm - 11:00pm

Woody's River Roo
Ellenton
Buzz Factor at Woody's River Roo
Fri, October 27
7:00pm - 11:00pm

Caribbean Bay Bar
Winter Haven
Buzz Factor at Caribbean Bay
Sat, October 28
8:00pm - 12:00am

Woody's River Roo
Ellenton
Buzz Factor at Woody's River Roo
Fri, November 17
7:00pm - 11:00pm

Phoenix Lounge Safety Harbor
Clearwater
Buzz Factor at Phoenix Lounge
Sat, November 18
9:00pm - 1:00am

Caribbean Bay Bar
Winter Haven
Buzz Factor at Caribbean Bay
Sun, November 19
3:00pm - 7:00pm

Pete's Place North
Tampa
Buzz Factor at Pete's Place on Dale Mabry
Fri, December 1
7:00pm - 11:00pm

Woody's River Roo
Ellenton
Buzz Factor at Woody's River Roo
Fri, December 15
7:00pm - 11:00pm

Caribbean Bay Bar
Winter Haven
Buzz Factor at Caribbean Bay
Sat, December 23
8:00pm - 12:00am

Salty Shamrock Irish Pub
Apollo Beach
Buzz Factor at Salty Shamrock
Thu, December 28
7:00pm - 11:00pm

Caribbean Bay Bar
Winter Haven
Buzz Factor at Caribbean Bay
Sun, January 21
3:00pm - 7:00pm

Woody's River Roo
Ellenton
Buzz Factor at Woody's River Roo
Fri, February 9
7:00pm - 11:00pm

Pete's Place North
Tampa
Buzz Factor at Pete's Place North
Fri, March 1
7:00pm - 11:00pm

Caribbean Bay Bar
Winter Haven
Buzz Factor at Caribbean Bay
Sat, April 13
8:00pm - 12:00am

Woody's River Roo
Ellenton
Buzz Factor at Woody's River Roo
Fri, April 26
7:00pm - 11:00pm

Pete's Place North
Tampa
Buzz Factor at Pete's Place North
Fri, May 10
7:00pm - 11:00pm

Caribbean Bay Bar
Winter Haven
Buzz Factor at Caribbean Bay
Sat, June 22
8:00pm - 12:00am

Woody's River Roo
Ellenton
Buzz Factor at Woody's River Roo
Fri, June 28
7:00pm - 11:00pm

Caribbean Bay Bar
Winter Haven
Buzz Factor at Caribbean Bay
Sat, August 3
8:00pm - 12:00am

Woody's River Roo
Ellenton
Buzz Factor at Woody's River Roo
Fri, August 23
7:00pm - 11:00pm

Woody's River Roo
Ellenton
Buzz Factor at Woody's River Roo
Fri, October 11
7:00pm - 11:00pm

Caribbean Bay Bar
Winter Haven
Buzz Factor at Caribbean Bay
Sun, October 20
3:00pm - 7:00pm

Pete's Place North
Tampa
Buzz Factor at Pete's Place North
Fri, November 1
7:00pm - 11:00pm

Woody's River Roo
Ellenton
Buzz Factor at Woody's River Roo
Fri, December 20
7:00pm - 11:00pm




Previous Events