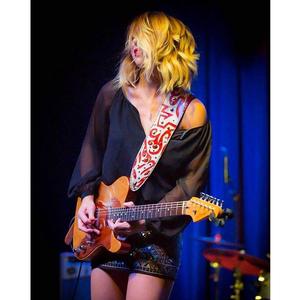 Samantha Fish
Rockin Blues
Kansas City native, Samantha Fish, has been performing for 10 years. Her fire and energy bring layers of dynamic to every performance. She "wows" audiences every where she goes with her diverse blend of low-down Blues, Blues Rock, and ballads.

Samantha's all-star band includes Go-Go Ray on drums (winner of the 2010 Roland Championship) and Chris Alexander who was introduced to Samantha by Mike Zito.

In 2012, Samantha won the Blues Music Award for Best New Artist after releasing Runaway her solo debut album. In 2015, Samantha released her 3rd album, Wild Heart, with more roots and country influenced songs.

Samantha Fish is a show to not miss!

Upcoming Events
There are no upcoming events scheduled.



Previous Events
Venue
Date
Vinoy Park
St. Petersburg
Tampa Bay Blues Fest
April 8, 2022
6:30pm - 8:00pm
$Tickets
Jannus Live
St. Petersburg
March 6, 2021
10:30pm
$Tickets
Jannus Live
St. Petersburg
March 6, 2021
7pm Doors @ 6pm

Skipper's Smokehouse
Tampa
February 15, 2020
8pm w/TC Carr and Bolts of Blue
$25/$30
Vinoy Park
St. Petersburg
April 12, 2019
6:30pm Tampa Bay Blues Festival
$Tickets