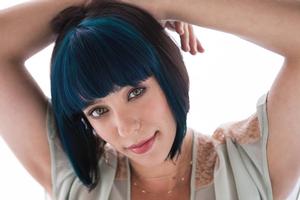 A 2014 Blues Music Award winner, there's not a time in her life that singer/ bassist/ songwriter Danielle Nicole (born Danielle Nicole Schnebelen) doesn't remember loving to perform.

In March of 1999, she started her own band, Fresh Brew, with Kansas City music veterans Steve Gronemeyer, Steve Hicks, Chuck Payne and Terry Roney. They performed for four years and even represented Kansas City in the International Blues Challenge.

It was during this time that Danielle and her brothers Nick and Kris began talking about a family band that would eventually become Trampled Under Foot.

As Trampled Under Foot wound down after 13 years, Danielle formed her own band and now makes her Concord Records solo debut with the September, 2015 release of a New Orleans-flavored, blues-soul based album Wolf Den, featuring GRAMMY®-winning producer-guitaristAnders Osborne, Galactic's co-founding drummer Stanton Moore and her regular keyboardist Mike "Shinetop, Jr." Sedovic.

Upcoming Events



Previous Events