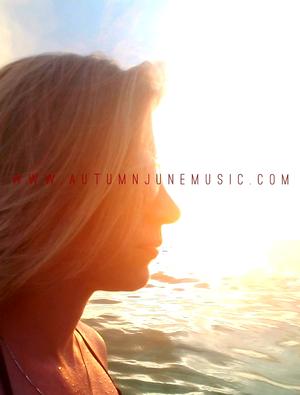 Autumn June
Acoustic, Classic Rock, Country, Folk
Autumn June, one of Pinellas County's most aspiring local artist is on the move and inspiring others along the way.  After playing at open jams she broke into the local music scene in early 2014 and hasn't slowed down since. You can find her at Jimmy Guanas IRB, Seabreeze Island Grill, Bogota Kitchen + Bar or running the one of the hottest Open Jams in Pinellas County at Niagara Tap now ongoing for over four years.  

Autumn June embarked on a European tour in 2017 where she had the fortunate opportunity to play some of Germany's biggest venues.  She opened at the Rickenbackers Music Inn, Resort Mark Brandenburg and The Festival of Life in Berlin for Sherman Noir and the Highway Surfers. While there she recorded her first single 'My Favorite Window', a song inspired by her 'favorite window' at her grandparents house where she would stay often while growing up.  

Her sound can be best described as a mix of Country, Rock, Folk and Pop. Autumn June is self-taught with vocal stylings inspired by artist like Sheryl Crow and Susan Tedeschi. 

Autumn June has followed up with her second single called 'Release Me'  June's awe-inspiring vocals are showcased on both "My Favorite Window" and "Release Me" available on Spotify, Itunes, Amazon and Google Play. She has a bold mix of her own original material and songs she hand picked from select covers performed by Garth Brooks, Ashley McBryde, Cat Stevens, The Cranberries, and so many others. 

A light to all, Autumn June's spirit shines through in her original material, as well as in her performances and her hope is to bless others while doing what she loves.

Upcoming Events
Venue
Date
Catches Rum River Bar and Grill
Port Richey
Sun, May 28
2:00pm - 6:00pm

Honu Restaurant
Dunedin
Wed, May 31
06:00 PM - 09:00 PM

Burrito Social
North Redington Beach
Thu, June 1
5:00pm - 9:00pm

Harry's Beach Bar - St Pete Beach
St. Pete Beach
Fri, June 2
12:00pm - 4:00pm

Ozona Brewing Company
Ozona
Fri, June 2
5:00pm - 8:00pm

Harry's Beach Bar - St Pete Beach
St. Pete Beach
Sat, June 3
12:00pm - 4:00pm

Bogota Kitchen and Bar
Palm Harbor
Sat, June 3
12:00pm - 4:00pm

Bogota Kitchen and Bar
Palm Harbor
Sat, June 3
12:00pm - 4:00pm

Pee-Pa's Garage Craft Brewery
Pinellas Park
Sat, June 3
6:00pm - 9:00pm

Mickey Quinn's Seminole
Seminole
Wed, June 7
7:00pm - 10:00pm

Burrito Social
North Redington Beach
Thu, June 8
5:00pm - 9:00pm

Harry's Beach Bar - St Pete Beach
St. Pete Beach
Fri, June 9
12:00pm - 4:00pm

Harry's Beach Bar - St Pete Beach
St. Pete Beach
Sat, June 10
12:00pm - 4:00pm

Harry's Beach Bar - St Pete Beach
St. Pete Beach
Fri, June 16
12:00pm - 4:00pm

Niagara Tap
Largo
Sat, June 17
4:00pm - 8:00pm

Anchor's Bar and Grille
New Port Richey
Sun, June 18
1:00pm - 4:00pm

Mickey Quinn's Seminole
Seminole
Wed, June 21
7:00pm - 10:00pm

Harry's Beach Bar - St Pete Beach
St. Pete Beach
Fri, June 23
12:00pm - 4:00pm

The Haus coffee & Wine Bar
Largo
Fri, June 23
7:30pm - 10:30pm

Harry's Beach Bar - St Pete Beach
St. Pete Beach
Sat, June 24
12:00pm - 4:00pm

FUSION Resort
Treasure Island
Sat, June 24
6:00pm - 9:00pm

Catches Rum River Bar and Grill
Port Richey
Sun, June 25
2:00pm - 6:00pm

Honu Restaurant
Dunedin
Wed, June 28
06:00 PM - 09:00 PM

Mickey Quinn's Seminole
Seminole
Wed, July 5
7:00pm - 10:00pm

Burrito Social
North Redington Beach
Thu, July 6
5:00pm - 9:00pm

Harry's Beach Bar - St Pete Beach
St. Pete Beach
Fri, July 7
12:00pm - 4:00pm

Harry's Beach Bar - St Pete Beach
St. Pete Beach
Sat, July 8
12:00pm - 4:00pm

Harry's Beach Bar - St Pete Beach
St. Pete Beach
Fri, July 14
12:00pm - 4:00pm

Mickey Quinn's Seminole
Seminole
Wed, July 19
7:00pm - 10:00pm

Harry's Beach Bar - St Pete Beach
St. Pete Beach
Fri, July 21
12:00pm - 4:00pm

Harry's Beach Bar - St Pete Beach
St. Pete Beach
Sat, July 22
12:00pm - 4:00pm

FUSION Resort
Treasure Island
Sat, July 22
6:00pm - 9:00pm

Catches Rum River Bar and Grill
Port Richey
Sun, July 23
2:00pm - 6:00pm

Honu Restaurant
Dunedin
Wed, July 26
06:00 PM - 09:00 PM

Harry's Beach Bar - St Pete Beach
St. Pete Beach
Fri, July 28
12:00pm - 4:00pm

The Haus coffee & Wine Bar
Largo
Fri, July 28
7:30pm - 10:30pm

Luke's Sports Shack Bar & Grille
Largo
Sat, July 29
7:00pm - 10:00pm

Bogota Kitchen and Bar
Palm Harbor
Sat, July 29
12:00pm - 4:00pm

Hog Island Fish Camp
Dunedin
Sun, July 30
2:00pm - 5:00pm

Harry's Beach Bar - St Pete Beach
St. Pete Beach
Fri, August 4
12:00pm - 4:00pm

Harry's Beach Bar - St Pete Beach
St. Pete Beach
Sat, August 5
12:00pm - 4:00pm

FUSION Resort
Treasure Island
Sat, August 5
6:00pm - 9:00pm

Hog Island Fish Camp
Dunedin
Tue, August 8
5:00pm - 8:00pm

Harry's Beach Bar - St Pete Beach
St. Pete Beach
Fri, August 11
12:00pm - 4:00pm

Luke's Sports Shack Bar & Grille
Largo
Fri, August 18
7:00pm - 10:00pm

Harry's Beach Bar - St Pete Beach
St. Pete Beach
Fri, August 18
12:00pm - 4:00pm

Harry's Beach Bar - St Pete Beach
St. Pete Beach
Sat, August 19
12:00pm - 4:00pm

Hog Island Fish Camp
Dunedin
Sun, August 20
2:00pm - 5:00pm

Harry's Beach Bar - St Pete Beach
St. Pete Beach
Fri, August 25
12:00pm - 4:00pm

The Haus coffee & Wine Bar
Largo
Fri, August 25
7:30pm - 10:30pm

Catches Rum River Bar and Grill
Port Richey
Sun, August 27
2:00pm - 6:00pm

Honu Restaurant
Dunedin
Wed, August 30
06:00 PM - 09:00 PM

Harry's Beach Bar - St Pete Beach
St. Pete Beach
Fri, September 1
12:00pm - 4:00pm

Harry's Beach Bar - St Pete Beach
St. Pete Beach
Sat, September 2
12:00pm - 4:00pm

Harry's Beach Bar - St Pete Beach
St. Pete Beach
Fri, September 8
12:00pm - 4:00pm

FUSION Resort
Treasure Island
Sat, September 9
6:00pm - 9:00pm

Luke's Sports Shack Bar & Grille
Largo
Fri, September 15
7:00pm - 10:00pm

Harry's Beach Bar - St Pete Beach
St. Pete Beach
Fri, September 15
12:00pm - 4:00pm

Harry's Beach Bar - St Pete Beach
St. Pete Beach
Sat, September 16
12:00pm - 4:00pm

Harry's Beach Bar - St Pete Beach
St. Pete Beach
Fri, September 22
12:00pm - 4:00pm

The Haus coffee & Wine Bar
Largo
Fri, September 22
7:30pm - 10:30pm

FUSION Resort
Treasure Island
Sat, September 23
6:00pm - 9:00pm

Catches Rum River Bar and Grill
Port Richey
Sun, September 24
2:00pm - 6:00pm

Honu Restaurant
Dunedin
Wed, September 27
06:00 PM - 09:00 PM

Harry's Beach Bar - St Pete Beach
St. Pete Beach
Fri, September 29
12:00pm - 4:00pm

Harry's Beach Bar - St Pete Beach
St. Pete Beach
Sat, September 30
12:00pm - 4:00pm

Dwellings on the Boulevard
Seminole
Sun, October 1
10:00am - 2:00pm

Harry's Beach Bar - St Pete Beach
St. Pete Beach
Fri, October 6
12:00pm - 4:00pm

FUSION Resort
Treasure Island
Fri, October 6
6:00pm - 9:00pm

Harry's Beach Bar - St Pete Beach
St. Pete Beach
Fri, October 13
12:00pm - 4:00pm

Harry's Beach Bar - St Pete Beach
St. Pete Beach
Sat, October 14
12:00pm - 4:00pm

Luke's Sports Shack Bar & Grille
Largo
Fri, October 20
7:00pm - 10:00pm

Harry's Beach Bar - St Pete Beach
St. Pete Beach
Fri, October 20
12:00pm - 4:00pm

FUSION Resort
Treasure Island
Sat, October 21
6:00pm - 9:00pm

Honu Restaurant
Dunedin
Wed, October 25
06:00 PM - 09:00 PM

Harry's Beach Bar - St Pete Beach
St. Pete Beach
Fri, October 27
12:00pm - 4:00pm

The Haus coffee & Wine Bar
Largo
Fri, October 27
7:30pm - 10:30pm

Harry's Beach Bar - St Pete Beach
St. Pete Beach
Sat, October 28
12:00pm - 4:00pm

Catches Rum River Bar and Grill
Port Richey
Sun, October 29
2:00pm - 6:00pm

Harry's Beach Bar - St Pete Beach
St. Pete Beach
Fri, November 3
12:00pm - 4:00pm

FUSION Resort
Treasure Island
Fri, November 3
6:00pm - 9:00pm

Dwellings on the Boulevard
Seminole
Sun, November 5
10:00am - 2:00pm

Harry's Beach Bar - St Pete Beach
St. Pete Beach
Fri, November 10
12:00pm - 4:00pm

Harry's Beach Bar - St Pete Beach
St. Pete Beach
Sat, November 11
12:00pm - 4:00pm

Luke's Sports Shack Bar & Grille
Largo
Fri, November 17
7:00pm - 10:00pm

Harry's Beach Bar - St Pete Beach
St. Pete Beach
Fri, November 17
12:00pm - 4:00pm

Harry's Beach Bar - St Pete Beach
St. Pete Beach
Fri, November 24
12:00pm - 4:00pm

The Haus coffee & Wine Bar
Largo
Fri, November 24
7:30pm - 10:30pm

Harry's Beach Bar - St Pete Beach
St. Pete Beach
Sat, November 25
12:00pm - 4:00pm

FUSION Resort
Treasure Island
Sat, November 25
6:00pm - 9:00pm

Catches Rum River Bar and Grill
Port Richey
Sun, November 26
2:00pm - 6:00pm

Honu Restaurant
Dunedin
Wed, November 29
06:00 PM - 09:00 PM

Harry's Beach Bar - St Pete Beach
St. Pete Beach
Fri, December 1
12:00pm - 4:00pm

Dwellings on the Boulevard
Seminole
Sun, December 3
10:00am - 2:00pm

Harry's Beach Bar - St Pete Beach
St. Pete Beach
Fri, December 8
12:00pm - 4:00pm

Harry's Beach Bar - St Pete Beach
St. Pete Beach
Sat, December 9
12:00pm - 4:00pm

Luke's Sports Shack Bar & Grille
Largo
Fri, December 15
7:00pm - 10:00pm

Harry's Beach Bar - St Pete Beach
St. Pete Beach
Fri, December 15
12:00pm - 4:00pm

Harry's Beach Bar - St Pete Beach
St. Pete Beach
Fri, December 22
12:00pm - 4:00pm

The Haus coffee & Wine Bar
Largo
Fri, December 22
7:30pm - 10:30pm

Harry's Beach Bar - St Pete Beach
St. Pete Beach
Sat, December 23
12:00pm - 4:00pm

Honu Restaurant
Dunedin
Wed, December 27
06:00 PM - 09:00 PM

Harry's Beach Bar - St Pete Beach
St. Pete Beach
Fri, December 29
12:00pm - 4:00pm




Previous Events