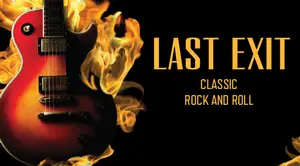 Last Exit
Blues, Classic Rock, Rock
LastExit is a three piece band composed of professional musicians with many years of experience. The band is musically versatile with an extensive and varied playlist. We play music from different bands including The Rolling Stones, ZZ Top, Foreigner, Bad Company, and the Beatles. These are just a few examples of the bands whose music we play. LastExit is a high-energy band that is sure to keep the crowd entertained.

We love what we do and that is entertaining crowds. Rock and Roll are all about the music we want our audience to leave wanting to come back to see us again and again.

LastExit music is enjoyed by everyone, young and old alike. No matter how old or new the music is rock and roll appeal to the majority of people- come to a show and enjoy a night that is sure to entertain.

Upcoming Events



Previous Events
Venue
Date
Harbor Bar
Safety Harbor
LAST EXIT ROCK AND ROLL
September 29, 2023
9:00pm - 1:00am

Harbor Bar
Safety Harbor
LAST EXIT ROCK AND ROLL
September 1, 2023
9:00pm - 1:00am

Snappers Grill & Comedy Club
Palm Harbor
LAST EXIT ROCK AND ROLL
August 4, 2023
8:30pm - 12:30am

Harbor Bar
Safety Harbor
LAST EXIT ROCK AND ROLL
July 7, 2023
9:00pm - 1:00am

3 Daughters Brewing St Pete
St. Petersburg
LAST EXIT ROCK AND ROLL
July 2, 2023
2:00pm - 6:00pm