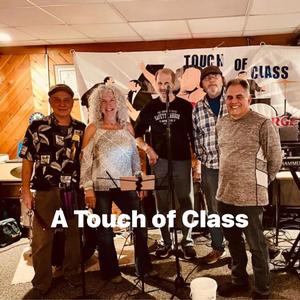 A Touch of Class
Easy Listening, Pop, Swing
Our "SNOWBIRD" band has over 50 years of entertaining experience. We have worked on 12 cruise ships and 100's of clubs, amphitheaters, Hershey Park, fairs, wineries and private parties. If you love the sounds of Frank Sinatra, The Crystals. Three Dog Night. The Supremes. Sam Cooke. Blake Sheldon, COR, Delbert McClinton, Bonnie Rait, The Mavericks etc., you will enjoy our rendition of these artists. We are available January through May 2023.

Our band consists of guitar, keyboards, bass, drums, and vocals-small enough to entertain your special event, gathering, trade show or 55 and over community.

Anna Marie has been entertaining thousands of people performing her tribute to Patsy Cline, a wonderful floor show touching on the life and music of Patsy. Hits such as Crazy, You Belong to Me and I Fall to Pieces. She enjoys singing variety music and engages with her audience.

Smooth sounds specifically geared for the adult audience. We provide affordable entertainment and look forward to entertaining you.

Please call Borges Entertainment to arrange a date for "A TOUCH OF CLASS» at 717-439-5032 or 717-579-4171.

Upcoming Events
Venue
Date
American Legion Post 238 Safety Harbor
Safety Harbor
PARTY THE 2ND FRIDAY OF EVERY MONTH WITH "A TOUCH OF CLASS"!
Fri, January 12
6:30pm - 9:30pm
$0
American Legion Post 119
Largo
PARTY THE 3RD SATURDAY OF EVERY MONTH WITH "A TOUCH OF CLASS"!
Sat, January 20
6:30pm - 9:30pm
$0
American Legion Post 238 Safety Harbor
Safety Harbor
PARTY THE 2ND FRIDAY OF EVERY MONTH WITH "A TOUCH OF CLASS"!
Fri, February 9
6:30pm - 9:30pm
$0
American Legion Post 119
Largo
PARTY THE 3RD SATURDAY OF EVERY MONTH WITH "A TOUCH OF CLASS"!
Sat, February 17
6:30pm - 9:30pm
$0
American Legion Post 238 Safety Harbor
Safety Harbor
PARTY THE 2ND FRIDAY OF EVERY MONTH WITH "A TOUCH OF CLASS"!
Fri, March 8
6:30pm - 9:30pm
$0
American Legion Post 119
Largo
PARTY THE 3RD SATURDAY OF EVERY MONTH WITH "A TOUCH OF CLASS"!
Sat, March 16
6:30pm - 9:30pm
$0
American Legion Post 238 Safety Harbor
Safety Harbor
PARTY THE 2ND FRIDAY OF EVERY MONTH WITH "A TOUCH OF CLASS"!
Fri, April 12
6:30pm - 9:30pm
$0
American Legion Post 119
Largo
PARTY THE 3RD SATURDAY OF EVERY MONTH WITH "A TOUCH OF CLASS"!
Sat, April 20
6:30pm - 9:30pm
$0
American Legion Post 238 Safety Harbor
Safety Harbor
PARTY THE 2ND FRIDAY OF EVERY MONTH WITH "A TOUCH OF CLASS"! OUR FINAL SNOWBIRD APPEARANCE FOR THIS SEASON AT THIS VENUE!
Fri, May 10
6:30pm - 9:30pm
$0
American Legion Post 119
Largo
PARTY THE 3RD SATURDAY OF EVERY MONTH WITH "A TOUCH OF CLASS"! OUR FINAL SNOWBIRD APPEARANCE FOR THIS SEASON AT THIS VENUE!
Sat, May 18
6:30pm - 9:30pm




Previous Events