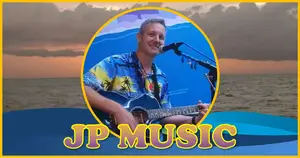 JP Music
Beatles, Classic Rock, Country, Pop
Solo Musician - Vocals/Acoustic Guitar

Recently retired, moved to Clearwater, life is good :)

Grew up listening to Beatles, Eagles, Elvis, etc., but I enjoy lots of different music. I'll try to play almost anything (helps if I've heard it before LOL). Recently started getting into the gigging business, having a blast, always looking forward to new opportunities!

Upcoming Events
Venue
Date
Ben & Jerry's
Clearwater Beach
JP Music
Fri, October 7
7:00pm - 10:00pm

Ben & Jerry's
Clearwater Beach
JP Music
Sat, October 8
7:00pm - 10:00pm

Ben & Jerry's
Clearwater Beach
JP Music
Fri, October 14
7:00pm - 10:00pm

Ben & Jerry's
Clearwater Beach
JP Music
Sat, October 15
7:00pm - 10:00pm

Ben & Jerry's
Clearwater Beach
JP Music
Fri, October 21
7:00pm - 10:00pm

Ben & Jerry's
Clearwater Beach
JP Music
Sat, October 22
7:00pm - 10:00pm

Ben & Jerry's
Clearwater Beach
JP Music
Fri, October 28
7:00pm - 10:00pm

Ben & Jerry's
Clearwater Beach
JP Music
Sat, October 29
7:00pm - 10:00pm

New Home Plate Cafe
Dunedin
JP Music
Sat, November 5
11:00am - 2:00pm

Bauser's
Dunedin
JP Music
Tue, December 27
9:00pm - 12:00am




Previous Events
Venue
Date
Ben & Jerry's
Clearwater Beach
JP Music
October 1, 2022
7:00pm - 10:00pm

Ben & Jerry's
Clearwater Beach
JP Music
September 30, 2022
7:00pm - 10:00pm

Ben & Jerry's
Clearwater Beach
JP Music
September 24, 2022
7:00pm - 10:00pm

Sandshakers Restaurant
Clearwater
JP Music
September 23, 2022
7:00pm - 10:00pm