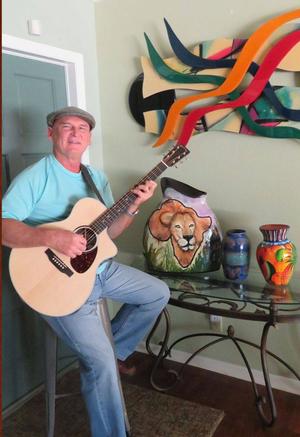 Rick Wynn
Acoustic, Classic Rock, Country, Southern Rock
Rick Wynn OneManBand is a musician based in Tampa, FL servicing the Tampa Bay Area and all of the surrounding counties. Rick is a talented artist who has played in multiple bands, has top quality equipment and has played solo acts for many years for various eateries, weddings, corporate events, birthdays, anniversaries, and more.
Rick specializes in playing much loved cover tunes from the 60s to the 90s ranging from classic rock, southern rock, folk, pop, country and blues. You can listen to 50 music samples on his website, browse his song list of over 90 songs, check out his reviews, see his schedule of even more venues and events that he has played and will play in the future along with several photos. Though he performs solo, Rick uses a sequencer playing a Very Well Mixed Backing Track of drums and bass to create the effect of a very tight 3-piece band.
Take a few minutes to listen to some of his songs and you'll appreciate the quality of mix and clarity. This is the way he sounds live!
Rick can perform at your event for up to four hours. He prides himself on his affordable rates and is committed to providing continuous quality music for your event instead of chatting on the microphone and burning up time that you're paying him to play music!
He was born in Tampa, has lived here all of his life, loves performing music, is always punctual and gives 100% during his performance. He prides himself on playing songs as close to the original artist and does not just jam out the songs.
RickWynnMusic.com
813-297-9421
[email protected]

Upcoming Events
Venue
Date
Sunset Lounge
Clearwater
Fri, June 2
6:00pm - 10:00pm
$0
Red, White & Booze
St. Pete Beach
Thu, June 8
5:00pm - 9:00pm
$0
Red, White & Booze
St. Pete Beach
Wed, June 28
5:00pm - 9:00pm
$0
Red, White & Booze
St. Pete Beach
Thu, July 6
5:00pm - 9:00pm
$0
Red, White & Booze
St. Pete Beach
Wed, July 26
5:00pm - 9:00pm
$0
Sunset Lounge
Clearwater
Fri, August 4
6:00pm - 10:00pm
$0
Red, White & Booze
St. Pete Beach
Sat, August 12
5:00pm - 9:00pm
$0
Red, White & Booze
St. Pete Beach
Wed, August 30
5:00pm - 9:00pm
$0
Red, White & Booze
St. Pete Beach
Sat, September 16
5:00pm - 9:00pm
$0
Red, White & Booze
St. Pete Beach
Wed, September 27
5:00pm - 9:00pm
$0
Sunset Lounge
Clearwater
Fri, September 29
6:00pm - 10:00pm
$0
Red, White & Booze
St. Pete Beach
Sat, October 14
5:00pm - 9:00pm
$0
Red, White & Booze
St. Pete Beach
Wed, October 25
5:00pm - 9:00pm
$0
Sunset Lounge
Clearwater
Fri, November 24
6:00pm - 10:00pm
$0
Sunset Lounge
Clearwater
Fri, December 29
6:00pm - 10:00pm
$0



Previous Events