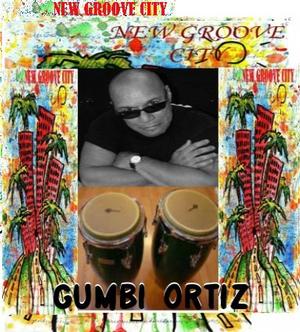 New Groove City Featuring Gumbi Ortiz
Latin


New Groove City with Gumbi Ortiz
Biography
Gumbi Ortiz is known around the world for his exciting conga performance and his knowledge of rhythm and percussion. For the last 20 years Gumbi has been an integral part of superstar guitarist Al Di Meolas band, he is also a teacher, a session player and leader of Florida based The Latino Projekt. During the last 10 years, The Latino Projekt have grown from a revolving base of young musicians who?ve learned from and played with Gumbi, into a full blown band who record and perform hardcore timba and real Cuban salsa music. The band has released two successful albums, La Cura (2000) and Soy De Aqui (2005) and has toured throughout Florida and the Southeast. As the band continues to evolve and grow, so does the bands sound. In 2011 The Latino Projekt officially became New Groove City to better reflect a more soulful direction the band has taken.

Upcoming Events
There are no upcoming events scheduled.



Previous Events


Fri, October 12, 2018
3-10pm Jazz on the Bay $Tickets
Sarasota

Sun, December 3, 2017
3PM-Viva Puerto Rico Relief Benefit $15/20
Tampa

Sat, March 12, 2016
1:00pm
Tampa

Thu, August 27, 2015
9:00pm-12:30am Latin Jazz Night
Tampa

Thu, August 20, 2015
9:00pm-12:30am Latin Jazz Night
Tampa