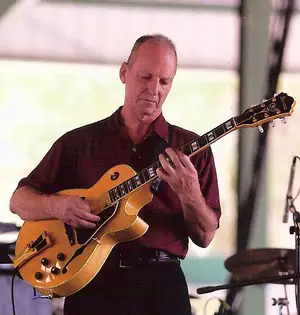 Steve is originally from the Boston area where he had
attended The Berklee College of Music. While at Berklee, Steve studied jazz guitar and arranging.
Steve has played and arranged for jazz bands, big bands, rock, funk, top 40 bands, theater and recording sessions throughout the country.
Steve has been an area resident for over 25 years and is currently enjoying and exploring the smooth jazz genre. 
Steve puts his own flavorings and arrangements to smooth jazz songs by the likes of George Benson, Al Jarreau, Lee Ritenour, Earl Klugh and others.

Upcoming Events
Venue
Date
Clasico Sarasota
Sarasota
Tue, March 28
6:30pm - 9:30pm

La Norma Ristorante & Pizzeria
Longboat Key
Thu, March 30
6:00pm - 9:00pm

La Norma Ristorante & Pizzeria
Longboat Key
Fri, March 31
6:00pm - 9:00pm

B & B Chophouse & Market -Lakewood Ranch
Bradenton
Sun, April 2
11:30am - 2:30pm

Clasico Sarasota
Sarasota
Tue, April 4
6:30pm - 9:30pm

La Norma Ristorante & Pizzeria
Longboat Key
Thu, April 6
6:00pm - 9:00pm

Private Event
not disclosed
The Lake Club (private) LWR
Fri, April 7
5:00pm - 9:00pm

Private Event
not disclosed
Bijou Garden Cafe (OPEN TO THE PUBLIC)
Sat, April 8
6:00pm - 9:00pm

B & B Chophouse & Market -Lakewood Ranch
Bradenton
Sun, April 9
11:30am - 2:30pm

Clasico Sarasota
Sarasota
Tue, April 11
6:30pm - 9:30pm

La Norma Ristorante & Pizzeria
Longboat Key
Thu, April 13
6:00pm - 9:00pm

La Norma Ristorante & Pizzeria
Longboat Key
Fri, April 14
6:00pm - 9:00pm

Bohemios Wine & Beer Tapas Bar
Sarasota
Sat, April 15
6:00pm - 9:00pm

B & B Chophouse & Market -Lakewood Ranch
Bradenton
Sun, April 16
11:30am - 2:30pm

Clasico Sarasota
Sarasota
Tue, April 18
6:30pm - 9:30pm

La Norma Ristorante & Pizzeria
Longboat Key
Thu, April 20
6:00pm - 9:00pm

La Norma Ristorante & Pizzeria
Longboat Key
Fri, April 21
6:00pm - 9:00pm

Private Event
not disclosed
Bijou Garden Cafe (OPEN TO THE PUBLIC)
Sat, April 22
6:00pm - 9:00pm

B & B Chophouse & Market -Lakewood Ranch
Bradenton
Sun, April 23
11:30am - 2:30pm

Clasico Sarasota
Sarasota
Tue, April 25
6:30pm - 9:30pm

La Norma Ristorante & Pizzeria
Longboat Key
Thu, April 27
6:00pm - 9:00pm

La Norma Ristorante & Pizzeria
Longboat Key
Fri, April 28
6:00pm - 9:00pm

Vino Bistro
Sarasota
Sat, April 29
7:00pm - 10:00pm

B & B Chophouse & Market -Lakewood Ranch
Bradenton
Sun, April 30
11:30am - 2:30pm

Clasico Sarasota
Sarasota
Tue, May 2
6:30pm - 9:30pm

La Norma Ristorante & Pizzeria
Longboat Key
Thu, May 4
6:00pm - 9:00pm

La Norma Ristorante & Pizzeria
Longboat Key
Fri, May 5
6:00pm - 9:00pm

B & B Chophouse & Market -Lakewood Ranch
Bradenton
Sun, May 7
11:30am - 2:30pm

Clasico Sarasota
Sarasota
Tue, May 9
6:30pm - 9:30pm

La Norma Ristorante & Pizzeria
Longboat Key
Thu, May 11
6:00pm - 9:00pm

La Norma Ristorante & Pizzeria
Longboat Key
Fri, May 12
6:00pm - 9:00pm

Bohemios Wine & Beer Tapas Bar
Sarasota
Sat, May 13
6:00pm - 9:00pm

B & B Chophouse & Market -Lakewood Ranch
Bradenton
Sun, May 14
11:30am - 2:30pm

Clasico Sarasota
Sarasota
Tue, May 16
6:30pm - 9:30pm

La Norma Ristorante & Pizzeria
Longboat Key
Thu, May 18
6:00pm - 9:00pm

La Norma Ristorante & Pizzeria
Longboat Key
Fri, May 19
6:00pm - 9:00pm

B & B Chophouse & Market -Lakewood Ranch
Bradenton
Sun, May 21
11:30am - 2:30pm

Clasico Sarasota
Sarasota
Tue, May 23
6:30pm - 9:30pm

La Norma Ristorante & Pizzeria
Longboat Key
Thu, May 25
6:00pm - 9:00pm

La Norma Ristorante & Pizzeria
Longboat Key
Fri, May 26
6:00pm - 9:00pm

B & B Chophouse & Market -Lakewood Ranch
Bradenton
Sun, May 28
11:30am - 2:30pm

Clasico Sarasota
Sarasota
Tue, May 30
6:30pm - 9:30pm

Bohemios Wine & Beer Tapas Bar
Sarasota
Sat, June 10
6:00pm - 9:00pm




Previous Events