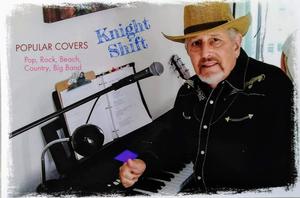 Knight Shift & Looper
Pop, Rock, Rockabilly, Rockin Blues
From Elvis to Sinatra, from the Blues to Jimmy Buffett, this guy does it all. He's been playing music for over 30 years from Washington, DC to the Suncoast: guitar, bass, drums, steel guitar, dobro, harmonica, piano...vocals.
Since he can't play them all at the same time, and since GOOD drummers and GOOD bass players are hard to find AND expensive, he has incorporated most of his songs, bass and rhythm tracks into his keyboard which he can control in an impromptu manner as the audience demands. Every song is different.
With a multitude of musical contacts, watch for surprise guests, vocalists, guitarists, saxophones to drop in.
Why pay big bucks for a 3 4 or 5 piece band when you can get great results with him...
We can also provide a 4-6 piece dance/party band!
Pop, Rock, Blues, Country... even Bluegrass!
Also, DJ services: '80s, '90s, Latin, Line Dance!!!
What are you waiting for???
Having fun... That's what it's all about...
Contact: Fred Knight (text/voice) 941-914-5466
[email protected]
"" On tour DC & Virginia July-August **
*** Returning to SW Florida in September ***

Upcoming Events
There are no upcoming events scheduled.



Previous Events
Venue
Date
Private Event
not disclosed
Heartland - Arcadia
September 24, 2022
12:00PM- 4:00PM

Private Event
not disclosed
Heartland - Arcadia
September 23, 2022
4:00pm - 8:00pm

Private Event
not disclosed
SBBB - Brooksville
September 3, 2022
2:00PM- 6:00PM

Private Event
not disclosed
SBBB - Brooksville
September 2, 2022
2:00PM- 6:00PM

Private Event
not disclosed
Heartland - Arcadia
August 27, 2022
12:00PM- 4:00PM