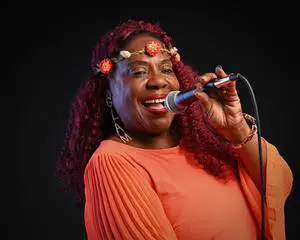 Dottie Kelly & Rock the House Band
Blues, Funk, High Energy Dance, R&B/Soul
Dottie Kelly is a 2022 IBC TOP 10 FINALISTS.
Dottie Kelly was born in West Palm Beach, FL, on March 13th she later moved to Clearwater, FL, where she attended
St. Pete Junior College and earned her Associates degree in Accounting.
Dottie sang in a Baptist church, which is where she developed her talent for singing. She would later follow her Aunt Betty Padgett, a well-known singer out of Ft. Lauderdale, FL, to her various shows. Aunt Betty Padgett eventually asked Dottie to sing background with her and Joey Gilmore.
From that point on, Dottie has traveled to various states, and opened for many artists from around the world. Those experiences mixed with pure raw talent, have made her a bona fide soul singer.
Dottie released her 1st promo CD in 2012 and Single Dec 2020. "I Don't Want No Man Like You". Now released CD in Mar 2022 "Dancing Shoes"
She has been requested to perform on several occasions with Darrell Raines, Otis Cadillac, TKBlu Band, Ladies of Soul and Legendary Joey Gilmore band, just to name a few. Her soulful voice and natural stage presence is a force to be reckoned with.
Dottie Kelly and Darrell Raines a duo act, we made it to the finals in Memphis on May 10, 2022 at the IBC. This was a great experience for me. I am ready to spread my talent all over the world.
Dottie Kelly is a powerhouse blues singer, with over 20 years of performing experience. Once you hear Dottie Kelly sing, you will be sure to book her for your next event.
Dottie Kelly and Rock The House Band
West Palm Beach, Fl
561-252-0567
[email protected]
[email protected]

Upcoming Events
Venue
Date
Conchy Joe's Seafood Restaurant
Jensen Beach
Motown, Blues, Soul and R&B
Fri, June 9
8:00pm - 11:00pm

Crawdaddy's Grill and Raw Bar
Jensen Beach
Motown, Blues, Soul, R*B and Rock n Roll Music
Sat, June 10
7:00pm - 11:00pm

Leroy's Southern Kitchen
Punta Gorda
Motown, Blues, Soul, and R&B
Thu, June 15
8:00pm - 11:00pm

Downtown Stuart Rock'n Riverwalk
Stuart
Motown, Blues, R&B and Soul Music
Tue, July 4
8:00pm - 9:00pm

Leroy's Southern Kitchen
Punta Gorda
Live Music- Motown, Blues, R&B and Soul
Thu, July 20
8:00pm - 11:00pm

Tako Tiki Jensen Beach
Jensen Beach
Live Music - Blues, Motown, Soul and Rock n Roll
Fri, July 21
7:00pm - 10:00pm

Crawdaddy's Grill and Raw Bar
Jensen Beach
Live Music - Motown, Blues, Soul and R&B
Sat, July 29
7:00pm - 11:00pm

Tako Tiki Jensen Beach
Jensen Beach
Live Music - Blues, Motown, Soul and Rock n Roll
Fri, September 15
7:00pm - 10:00pm

Tako Tiki Jensen Beach
Jensen Beach
Live Music - Blues, Motown, Soul and Rock n Roll
Sat, October 28
7:00pm - 10:00pm

Tako Tiki Jensen Beach
Jensen Beach
Live Music - Blues, Motown, Soul and Rock n Roll
Sat, October 28
7:00pm - 10:00pm

Tako Tiki Jensen Beach
Jensen Beach
Live Music - Blues, Motown, Soul and Rock n Roll
Sat, November 25
7:00pm - 10:00pm

Tako Tiki Jensen Beach
Jensen Beach
Live Music - Blues, Motown, Soul and Rock n Roll
Fri, December 29
7:00pm - 10:00pm




Previous Events