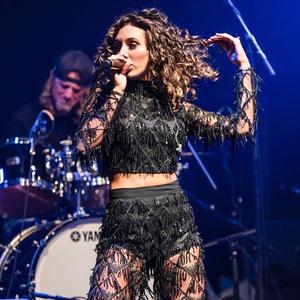 Angie Rey Project
Country
Country singer songwriter, Angie Rey has a dream, but this is not a little one, rather a vast dream. With her curly top, beautiful smile, and intriguing voice, Angie is from a really small town in Southern California, hoping to change the world one step at a time. In this process she has already seen success that most young teenagers only dream about.

Her journey began at the age of five when she was only singing in preschool, the shower, and her bedroom. Now, years later, at the age of thirteen, she made it to the top eighteen on La Voz Kids, being able to sing with Jessie and Joy and Prince Royce. "I never expected anything like this to happen," Angie said. "It's a dream come true." Shortly after, at the age of 15, she made top 75 on American Idol, being the youngest girl on season 14. Her mature sound and style has her poised to appeal to a wide range of ages. Angie has now opened for various Country stars like Scotty McCreery, Chase Bryant, Jerrod Niemann, John Michael Montgomery, and many others!
?
With fans in dozens of countries all over the world, Angie is now an international sensation. But Angie isn't ready to stop – far from it. She has set her sights and her voice on taking the Country music world by storm.

Upcoming Events
Venue
Date
BayCare Ballpark
Clearwater
Concert after the game
Fri, September 9
12:00AM-12:00AM




Previous Events