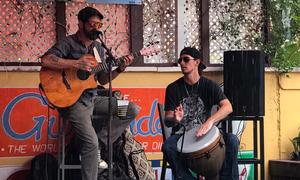 Sundive
Acoustic, Indie, Reggae, Rock

Our music is an original fusion of all genres with a New Orleans edge. Celebrate life with us and experience the love we share with the crowd at our shows!

French/Cuban singer/songwriter, Jason Frilot, left his hometown of New Orleans in July 2011 with the intentions of starting an east coast tour. Those plans were put on hold, however, when he found and fell in love with the Tampa Bay Area.

Frilot stayed in Florida and put together a group of talented musicians with reggae, rock, folk, and hip-hop influences to make up the band Freelow. Together they played throughout the Tampa Bay Area, headlining shows at Jannus Live, and opening for artists such as The Dirty Heads, Fuel, Alien Ant Farm, Local H, Hoobastank, TwentyOne Pilots, Coheed and Cambia, and much more.

More recently, Frilot performs in a duo known as Sundive, with Freddy Nerio on cajon. Although he still works with many of his previous band mates, his shows have evolved into a more intimate, acoustic setting.

With over 80 original songs, Sundive rarely plays cover songs and stays true to the creation of their unique sound. Catch Sundive live in Tampa Bay and the surrounding area.

Upcoming Events
There are no upcoming events scheduled.



Previous Events
Venue
Date
Bar@548
St. Petersburg
January 15, 2020
10pm-2am

Bar@548
St. Petersburg
January 8, 2020
10pm-2am

Bar@548
St. Petersburg
January 1, 2020
10pm-2am

Bar@548
St. Petersburg
December 30, 2019
10pm-2am

Caddy's on Central
St. Petersburg
December 27, 2019
6pm-10pm