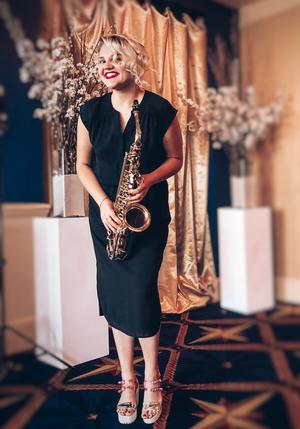 Lis_sax
Jazz , Pop , R&B/Soul

Lisa and her saxophone will bring jazzy-funky breath to your event and special occasion! Lisa has been working as performer for 6 years. She had a tour in Russia, has also worked in Turkey and China. Now based in Sarasota, Florida, she's a professional saxophonist who has had hundreds of shows and events! This girl doesn't just play, her soul talks trough her saxophone. She makes people move and enjoy this moment of their life. The genre of music that Lisa plays: R&B and soul, jazz, blues, pop, rocking blues, Hip-Hop, Funk, Reggae, Latin, etc. You just have to hear her once and you will fall in love with the sounds of her saxophone!

Upcoming Events
There are no upcoming events scheduled.



Previous Events


Wed, February 12, 2020
6pm-10pm
St. Pete Beach

Sat, January 18, 2020
6pm-10pm
Clearwater Beach

Mon, December 30, 2019
6pm -10 pm
St. Pete Beach

Sat, December 7, 2019
6pm - 10pm
Indian Rocks Beach

Fri, December 6, 2019
6pm - 10pm
Indian Rocks Beach