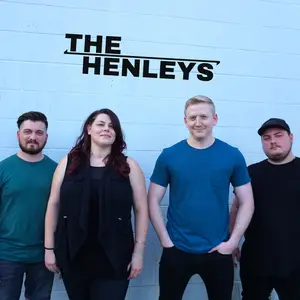 The Henleys
Alternative, Rock, Rockin Blues, Southern Rock
The Henleys is a rock/blues/alt/southern rock band consisting of vocalist Ashley Blanchard, guitarist Ryan Baker, bassist Evan Frazier, and drummer Chris McDonald hailing from Tampa, FL

"Styles: hard rock, classic rock and southern rock. A hard rocking Floridian cocktail, The Henleys know how to hold a raucously gutsy rock and roll party. On the Rocks is a classic hard rock journey with hard-hitting musicianship and soulful, power-driven vocals." -AB Records
Founded in 2016, The Henleys are on a mission to make music they love and bring the very best performance possible, leaving their audience in love with their energy, love, and passion for their craft and rock 'n' roll. Inspired by a variety of legendary rock bands and artists old and new this band of friends has a diverse musical background that comes together to deliver a sound that will leave you in amazement.
Capitalizing on Chris' powerful drumming, Evan's funky bass playing, Ryan's unrivaled musicianship, and Ashley's vocals that can shake a roof down; The Henleys know they have something special.

Upcoming Events
There are no upcoming events scheduled.



Previous Events