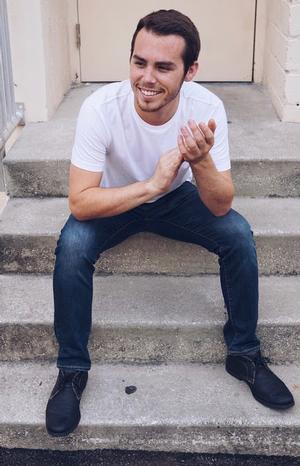 Derek Lersch
Country, Pop, Rock, Southern Rock
Passion for music and drive to succeed took Derek from performing Aerosmith's "I Don't Want to Miss a Thing" at age 3 for family to now having performed over 350 shows in four years.
?
Born in the small town of Scituate, Massachusetts in 1995, Derek moved to Florida at age 3. He grew up listening to all of the greats, from legends like Aerosmith, Tom Petty, and The Eagles to Michael Jackson and Garth Brooks. "I grew up on all kinds of music. From classic rock, pop, country, everything! You got to remember I'm a 90s kid too so even the Backstreet Boys and Shania Twain have influences in my music." Derek attributes many of his stage antics and sound to the various musical influences he grew up on.
?
After learning how to play the piano and the guitar in high school, Derek started writing songs and performing some of his favorite songs. It wasn't long before he booked his first show. Today with over 350 shows played, Derek's favorite thing is still performing live. "There's nothing better than a crowds energy and emotions. It's truly what drives me."

In 2015, Derek attended Full Sail University to obtain his Music Business Degree. During this time, he tried out for American Idol and after advancing through a few rounds he unfortunately did not advance. That only pushed him to work harder on his dream. "I love being told no. What's more motivating than that?"

After graduation, Derek moved to Nashville to further his career in the Music Business. After spending a year in Nashville working at iHeartRadio, he moved back to Bradenton, FL in 2017 to continue working in the entertainment industry and continue his music dream.
?
This is where you can find him now pursuing his dreams, performing for crowds of all kinds and sizes. He's currently working in the studio on his first EP. Stay tuned....

Upcoming Events
There are no upcoming events scheduled.



Previous Events