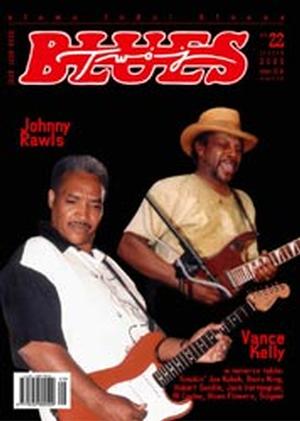 Johnny Rawls is a soul blues legend. In fact, the term "soul blues" was invented to describe his music. With a career spanning more than 50 years, he's done it all. He's an internationally recognized recording artist, music producer, and songwriter who tours extensively throughout North America and overseas.

The Blues Music Awards, Blues Blast Awards, Living Blues Critics Poll Awards, and the W. C. Handy Awards have all acknowledged Johnny with multiple awards and nominations, including Soul Blues Album of the Year and Soul Blues Male Artist of the Year. Johnny is honored to be mentioned on two markers along the Mississippi Blues Trail.

Born in Mississippi in 1951, Johnny's interest in music began in early childhood. By high school, Johnny was playing professionally, backing artists including ZZ Hill, Little Johnny Taylor, Joe Tex, and The Sweet Inspirations. In the mid-1970s, Johnny became the band director for soul singer O.V. Wright, and toured with O.V. until his death in 1980. From 1980-1985, he led Little Johnny Taylor's band. In 1985, Johnny began touring as a solo artist. He has released more than 15 albums since his debut solo album, Here We Go, in 1996.

Johnny's latest CD "Waiting for the Train" was released in September 2017, and has been recognized as one of the top 50 blues albums of the year by Roots Music Report. Every year since 2002, Johnny has been nominated for the Blues Music Awards by the Blues Foundation and 2018 is no exception. "Waiting for the Train" was nominated for Soul Blues Album of the Year and Johnny was nominated for Soul Blues Male Artist.
Johnny appears with Oren Plous on keyboards, Michael Dempsey on bass guitar.

Upcoming Events



Previous Events