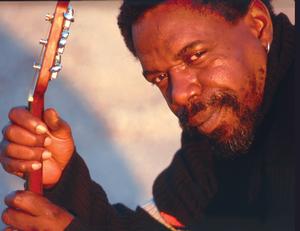 Lurrie Bell
Blues


Born in 1958, the son of famed blues harmonica player Carey Bell, Lurrie Bell picked up his father's guitar at age of five and taught himself to play. He was clearly gifted. In addition, he grew up with many of the Chicago blues legends around him. Eddie Taylor, Big Walter Horton, Eddie C. Campbell, Eddie Clearwater, Lovie Lee, Sunnyland Slim, Jimmy Dawkins and many more were frequent visitors to his house. They all helped to shape and school him in the blues, but none as much as his father's long-time employer Muddy Waters.

Not only was Bell recognized as an exceptionally talented guitarist and musician, his knowledge of different blues styles, his soulfulness and his musical maturity delivered write-ups in publications such as Rolling Stone and The New York Times.

At last count Lurrie Bell has now appeared on over 50+ recordings either as leader or featured sideman. Lurrie Bell's elegant and intense guitar playing and passionate vocals have made him a favorite at clubs and festivals around the world and have earned him a reputation as one of the "leading lights" in the future of the blues.

Upcoming Events
There are no upcoming events scheduled.



Previous Events


Sat, March 3, 2018
4:00pm Suncoast Blues Festival $Tickets
Sarasota