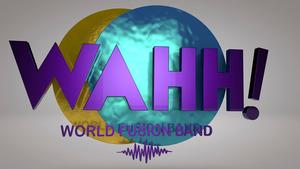 Wahh World Fusion Band
World

Wahh!' in India is a popular word that expresses 'Great Inner Joy and Appreciation'…
Best of the Bay - 2016 winner Wahh World Fusion band.
Trailblazers of a unique and multiform sound, 'WAHH!' is rooted in India's rich traditional musical culture and enveloped in an artful weave of Jazz, Rock and Funk.
The highlights of WAHH''s many recent performances include playing to a fully packed theatre of enthusiastic fans at the Tropical Heatwave Festival where WAHH! received a standing ovation from the 'standing room only' crowd, performing for Tampa Bay's prestigious 'Gasparilla Music Festival, the LIGHTS ON TAMPA with an audience of over 3000+ people and The WMNF Radio Benefit Concert at the Hideaway in St. Pete, Fl where the venue had to turn people away because they were over-capacity.
Reflecting prominent, traditional Indian influences and strong Western influences, WAHH! World Fusion Band also brings in subtle influences from the Middle East and Africa. WAHH!'s masterful fusing of musical genres and artful combination of traditional and modern musical expression appeals to wide and diverse audiences with a distinct Global Appeal.

Upcoming Events
There are no upcoming events scheduled.



Previous Events


Fri, March 27, 2020
Open 7:00pm/showtime 7:30pm $$15.00 in advance/$20.00 at the door if available
Safety Harbor

Sun, February 23, 2020
3:45-4:45 East West Music/Dance $10
Tampa

Sat, November 9, 2019
8pm $15-18
Sarasota

Sun, November 3, 2019
5pm w/Garden Club Band $12/$15
Tampa

Sat, October 6, 2018
8pm w/Rajib Kamakar $10/$13
Tampa