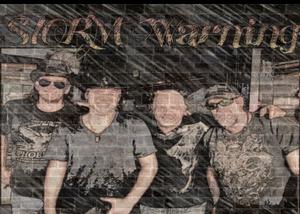 STORM Warning
Blues, Classic Rock, Country, Funk, Hip-Hop/Rap, Rock, Rockin Blues


Diversified Classic Rock / Rock / Southern Rock / Originals / Blues / Dance / a touch of Country.
Please check us out on Facebook for more info and other area events!!!

Upcoming Events



Previous Events


Fri, February 9, 2018
7:00PM Gatorz P.C.
Port Charlotte

Sun, February 4, 2018
NOON
Port Charlotte

Fri, February 2, 2018
7:30PM
Punta Gorda

Sun, January 28, 2018
4-8pm
Sarasota

Fri, January 26, 2018
7:30PM
Punta Gorda