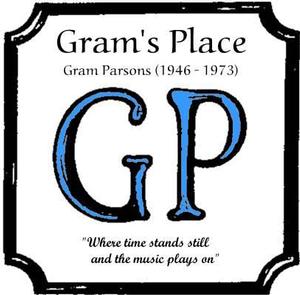 Gram's Place Hostel
3109 N. Ola Ave
Tampa, FL 33603
(813) 221-0596
Map View:
Click here
Gram's Place was established in 1991 as a result of owner Mark Holland taking a trip to Amsterdam.
Impressed by the tolerant nature of Amsterdam and receiving the Dutch "Gram Parsons Award" created by Henk Korsten of the Netherlands, recognizing Parsons as the official God Father of Country Rock Music, Mark set out with a dream: The idea was to bring all people together through music, the international language.
With only a dream of a place where all people could gather in the Spirit of "Music" and "Mitakuye Oyasin"(a native American word which means "We are all related" Gram's Place was born.

Upcoming Events
There are no upcoming events scheduled.



Past Events
Artist
Date
Crabgrass Cowboys
Americana, Bluegrass, Country, Rockabilly
w/ Donna Frost (Nashville artist)
August 6, 2022
6:00pm - 10:00pm
$Yes
Flea Bitten Dawgs
Acoustic, Dead, Jazz, Swing
February 27, 2016
7:00pm
$10.00
Jct 27
Americana, Bluegrass, Folk
October 3, 2015
7:00 PM
Flea Bitten Dawgs
Acoustic, Dead, Jazz, Swing
February 28, 2015
5:00pm
$15.00
Crabgrass Cowboys
Americana, Bluegrass, Country, Rockabilly
April 19, 2014