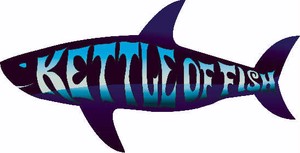 Kettle Of Fish
Rock, Rockin Blues, Southern Rock
Dana Lawrence (vocals, guitar, harmonica),
Greg Poulos (vocals, guitars)
Chris Guertin (vocals, bass)
Robin Swenson (vocals, keyboards)
Pat McDonald(drums, vocals)),
special guests and honorary members include Thorson Moore, Berry Oakley, Garrett Dawson, Todd Cook, Andy Wallace
and other friends!
They have been performing in clubs, pubs and venues all over the United States and the World for years. They have played on stage stage with members of the Nitty Gritty Dirt Band, Roger Waters' Band, Chris Anderson of the Outlaws Graham Forbes of the Incredible String Band, Pat Travers, Damon Fowler, Dickey Betts, the Amazing Bolts, Shea Seger, Twinkle, Devon Allman, and have opened for artists like Eddie Money, Molly Hatchet, Elvin Bishop, Tommy Castro, Trombone Shorty, the Marshall Tucker Band, among others.
Their music is more of a rootsy "blues rock with soul," working to cross together soulful blues with the energy of rock n roll. If you like the sound of the Rolling Stones, Tom Petty, Otis Redding, Robert Cray, the Neville Brothers, Buddy Guy, Stevie Wonder, the Allman Brothers, the Grateful Dead,
...you will love Kettle of Fish.

Upcoming Events
Venue
Date
Stottlemyer's Smokehouse
Sarasota
w/Damon Fowler
Sun, May 28
4:00pm - 7:00pm

Hart's Landing
Sarasota
Music at Hart's Landing / Werlin Park
Sat, June 3
07:00 PM - 10:00 PM

Hart's Landing
Sarasota
Music at Hart's Landing / Werlin Park
Sat, June 10
7:00pm - 10:00pm
$None
Hart's Landing
Sarasota
Music at Hart's Landing / Werlin Park
Sat, September 16
7:00pm - 10:00pm
$None
Hart's Landing
Sarasota
Music at Hart's Landing / Werlin Park
Sat, October 21
7:00pm - 10:00pm
$None
Hart's Landing
Sarasota
Music at Hart's Landing / Werlin Park
Sat, November 25
7:00pm - 10:00pm
$None
Hart's Landing
Sarasota
Music at Hart's Landing / Werlin Park
Sat, December 23
7:00pm - 10:00pm
$None



Previous Events