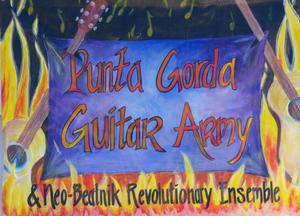 Punta Gorda Guitar Army
60's Beach Rock , Acoustic , Beatles , Blues , Classic Rock , Country


We meet every Thursday Night at Gilchrist Park in Punta Gorda rain or shine! Bring an instrument, or just come to listen. We are lucky to have so many musically talented folks around us. While there, if you take any pictures or videos, this is a great place to post and share them. Come on and join in the fun!


Upcoming Events
There are no upcoming events scheduled.



Previous Events


Thu, May 31, 2018
5:30 pm until 9:00 pm $0
Punta Gorda

Thu, May 24, 2018
5:30 pm until 9:00 pm $0
Punta Gorda

Thu, May 17, 2018
5:30 pm until 9:00 pm $0
Punta Gorda

Thu, May 10, 2018
5:30 pm until 9:00 pm $0
Punta Gorda

Thu, May 3, 2018
5:30 pm until 9:00 pm $0
Punta Gorda