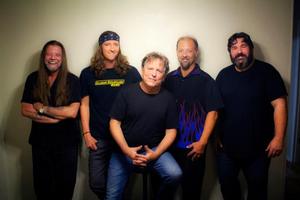 Allman Goldflies Band
Southern Rock


The Allman Goldflies Band stems from the long-term friendship of two musicians, Gary Allman and David Goldflies.

Gary Allman's music contains stories from all of his life. His recent songs portray Gary's journey through the United States Criminal Justice system, his pain and loss, and finally...his redemption. The songs, many of which were written in prison, have formed the core of the original music of the Allman Goldflies Band.

David Goldflies, a lifelong musician, distinguished himself at an early age with multiple tours and albums with the Allman Brothers Band. David's visceral understanding of the emotion and drive of authentic southern rock and blues can be heard in both his playing and his original music.

Upcoming Events
There are no upcoming events scheduled.



Previous Events


Fri, June 29, 2018
Englewood

Sat, June 23, 2018
8pm w/Melody Trucks Band $10/$13
Tampa

Fri, June 22, 2018
Ft. Myers

Sat, June 9, 2018
Dunedin

Fri, April 13, 2018
8pm w/Sean Chambers $10/$13
Tampa